Dad defends decision to let Pit Bulls cuddle his son after online criticism
Some commenters didn't approve, but these Pit Bull crossbreeds get on great with their human owner's kids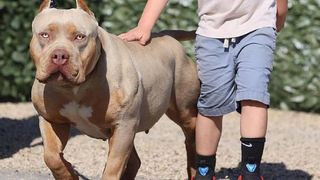 (Image credit: Instagram / mvp_bullies)
We're used to seeing dogs serve as loving companions to their human owners – they're very caring animals by their very nature, after all. However, one dog owner has frequently come under fire for letting his Pit Bulls cuddle up to his young son.
Jarad Derochey is a Pit Bull breeder who runs MVP Kennels specializing in a crossbreed called the American Bully.
While his canines appear to be completely friendly and docile - indeed, in some videos posted to the kennel's Instagram page, the dogs can be seen snuggling kittens - they don't always have the best reputation, with some social media users criticizing him for allowing the dogs to get so close to his children.
Defending his decision, Derochey has said that his dogs are harmless and would never be aggressive to his little ones.
"My dogs are sweet, intelligent. It's like I live in a day care because they play with my kids so much," Derochey told Inside Edition.
Judging by the videos on his Instagram, his opinion would appear to be backed up. The breeder looks to debunk negative Pit Bull stereotypes by posting adorable home videos on social media. There are numerous videos that show his kids and his dogs hanging out together with not a care in the world. They're basically gigantic kids themselves.
More recently, this post from May 30 shows one of his pups giving another of his children a slobbery kiss. We're not sure how thrilled the kid is about it (reading the comments, Jarad said he's teething at the moment), but there's clearly only love there.
We guess that the moral of the story here is not always to judge a book by its cover. Pit Bulls may sometimes look a bit intimidating, but ultimately are they just as good-natured as any other breed?
Whether you believe that if dogs are well-trained you won't have a problem with them, or disagree entirely, it's a topic that certainly divides animal lovers.
What do you think? Let us know over on our Facebook, Twitter or Instagram channels.
Get the best advice, tips and top tech for your beloved Pets
Steve writes and proofreads buying guides, news stories and advice for Pets Radar, drawing on his lifelong experience as a pet owner. Currently sharing his house with two cats and a dog, he draws on the many highs and occasional lows of pet ownership he has borne witness to in his writing. He has worked in publishing for 15 years as an editor, sub editor and writer on a range of titles, such as SciFiNow, How It Works, All About History, Real Crime and Horrorville. You can follow him on Twitter @stevewright22