The ten rescue pit bull Instagram accounts you need to follow right now
The breed gets a bad rep but these pit bull Instagram stars will make you want to adopt one yourself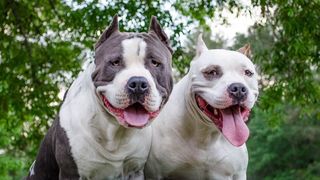 (Image credit: Getty)
The pit bull gets a bad reputation for a whole host of reasons, but in reality they're much more complicated (and adorable) than many think. For one, the term "pit bull" can mean a lot of different things, so clarification is important - it often refers to a category of several breeds, including the American Pit Bull Terrier, the American Staffordshire Terrier, the Stafforshire Bull Terrier, the American Bully, and sometimes even the American Bulldog.
In the UK, the term "pit bull" usually refers only to the American Pit Bull Terrier, and that breed is sadly banned for ownership or breeding due to its bad reputation after being used for years as a fighting dog. I own a pit bull, however, and can safely say they are an absolutely fantastic breed, so if you live in the US and want an American Pit Bull terrier, there are many places you can go to find some to adopt - sadly they are one of the most common dogs found in shelters and at rescues.
If you live in the UK, there are other dogs that fall under the "pit bull" terminology in the US that are perfectly legal to own, including staffies. An easy way to tell the difference between American Pit Bull Terriers and American Staffordshire Terriers are their legs - staffies are very short and squat, while pit bulls are taller and leaner.
These pit bull Instagram accounts show the real side of the big headed love bugs that are pit bulls and the many breeds they are associated with. There's a reason these accounts have gotten so popular, and it's because these dogs are truly special. Check out the ten pit bull Instagram accounts you should follow right now - and know you'll want to adopt one after you're through!
1. Noelani AKA Pack of Pibbles (@packofpibbles)
Noelani is a foster mom and full-time mom to her very own pack of pibbles (which is what the pit bull community commonly calls them because it's adorable). She even recently added a human baby to her pack, so you can see for yourself just how lovely these pups are with humans of all sizes.
2. Roofus and Kilo (@roofusandkilo)
These rescue dogs from Oregon live with a pack of rescue and foster dogs that aren't all pits, but the family clearly has a type. These pups love to swim, and the summer pictures have been extra special. Kilo is a big fan of the foster puppies that come to live with them, and often likes to lay in a big ol' puppy pile with them.
3. Milo the Mystery Pibble (@mysterypibble)
It's a pit bull, it's a collie, it's Milo the Mystery Pibble. You can tell by Milo's big head and smile that he's definitely some type of bully breed mix, but with his hairy Grinch feet and long coat, it's a mystery what he's mixed with. Milo's mom rescued him and clearly got a magical dog when she did, as those feet deserve all the kisses.
4. Baloo (@bully.baloo)
Baloo was reportedly adopted by his rescue mom Bella when she was young and going through a rough mental health time in college. She started volunteering at shelters to make herself feel better, and one day she found Baloo in the back in the new intake area. She went back and got him, and his big ears and lovely smile helped bring her to a better place, and they've been inseparable ever since.
5. The Blue Boys (@the_blueboys)
Darren and Phillip are such popular staffies they have their own clothing line that humans and pups can wear. The two squatty chunkers are hilariously patient and full of snorts and smiles. They're comfortable in a lot of outfits (and seem to actually love wearing PJs) and seem to love their life in Australia with their mom and dad.
6. Malibu (@malibusmama)
Malibu is a rescue pitty living in Southern California. Sadly, Malibu was surrendered by her owner in 2015 at just a year old and on New Year's Day. Luckily, her future mom, Christine Smith, found her and gave her the life she deserved. Smith even started putting Malibu in adorable bandanas so that people who were wrongfully scared of this pitty would find her approachable - and it worked!
7. Calista (calistathepitbull)
Calista's early life is a sad but unfortunately common story for pit bulls and bully breeds - horribly abused, she ended up in a shelter all alone with bad wounds on her ears that almost cost her hearing. Fortunately, she was rescued, and surgery was performed to save her hearing - now she's an earless angel living through cancer with her mom and her brother, Zazu.
8. Lemon Pancake (@the.real.lemon.pancake)
I've met this magical pit bull myself, and she's certainly as inspiring as she is adorable. Lemon Pancake - yes that is her name - lives with Mucopolysaccharidosis (or MPS), a disease that causes growth issues, skeletal deformities, and more. She gets pushed around in a stroller, but works on her musculature and walk at physical therapy that includes water exercise. She's a real doll, and an inspiration to us all.
9. Sookie and Ivy (@sookieandivy)
Sookie and Ivy are two rescue pit bull type pups living life to the fullest. Sookie was adopted in 2011, while Ivy was adopted in 2013, but you'd think they've been siblings their entire lives. The two are adorable, and the videos on their account will certainly make you laugh - I'm partial to the "Was Ivy a jerk today?" video.
10. Lexy the Elderbull (lexy_the_elderbell)
Lexy is exactly what her name suggests - an elder pit bull living life to the fullest in Vancouver, B.C. This beautiful baby was rescued at 8-years-old from a backyard breeding situation - another sad truth in the life of many pit bulls. She spent a long time in the shelter, as many people don't want to adopt elderly pits, before her mom found her and made her life whole. Now she lives her life swimming, cuddling, and being perfect. Her website is a great source of information about pit bull misconceptions, the ignorance of Breed Specific Legislation, and owning an elder dog.
If these ten adorable pit bull Instagrams made you want your very own rescue pit, there's a lot you can do to learn about them and find pups that needs homes in your areas.
Head to The Rescue Train for more info about the pit bull umbrella term and much more and Get a Bull for more on pit bull rescue advocacy. Rescue organizations include Biggies Bullies, Pit Bull Rescue Center, Hello Bully, and Peace for Pits. But, you should also keep in mind that pit bull type dogs end up in local shelters at an incredibly high rate, and those shelters are often kill shelters, so check your local public shelters for pups that need homes.
Get the best advice, tips and top tech for your beloved Pets