Tinsley the dog leads police to car crash to save owner from hypothermia
'Real life Lassie' Tinsley the dog dubbed owner's guardian angel after leading police to the site of car crash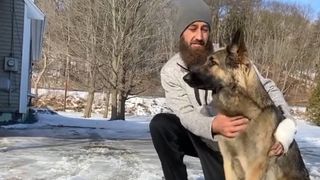 (Image credit: WPTZ)
Tinsley the dog has been dubbed a 'real life Lassie' after leading police to a car crash in time to save her owner from hypothermia.
The incident happened on January 3 at around 10pm when Trooper Tom Sandberg of the Lebanon Police Department received reports of a loose dog on Interstate 89. When he went to investigate with colleagues he found one-year-old Shiloh Shepherd Tinsley looking 'skittish and scared'.
Their first priority was to catch the young dog and take her to a place of safety, but when they tried the intelligent pooch would run on, then stand and look back to get their attention. They followed her to the Veteran's Memorial Bridge which crosses the border between New Hampshire and Vermont.
There they found a broken guardrail and a wrecked pickup truck which had gone off the road. Both occupants had been thrown out of the vehicle and were injured and suffering from the early onset of hypothermia.
With temperatures on Monday night reaching lows of around 3 degrees F, both would have had little chance without Tinsley's quick thinking. Shiloh Shepherds, a breed very similar to German Shepherds but larger, are characteristically loyal, intelligent and calm.
One of the occupants of the truck was Tinsley's owner Cam Laundry, with his friend Justin Connors riding shotgun. Once Tinsley had led rescuers back to the vehicle her job was done and she settled down calmly next to Cam. Police called in the Emergency Medical Services who later credited Tinsley with alerting them in time to save both men.
Lt. Daniel Baldassare of the New Hampshire State Police said that "This dog definitely saved their lives. I don't think they would have survived the night given the temperatures."
Both Cam, 31, and his passenger were taken to hospital. Cam has since been discharged to spend time at home with his rescuer.
"She's my little guardian angel," he told news channel WPTZ. "It's a miracle that she had that kind of intelligence to do what she did. We didn't really know what was happening and next thing we knew, the cops were there."
While Cam still seems shaken by his recent experience, Tinsley is just happy to be back home with her best friend and looking forward to lots of extra treats and fuss. The pair were already inseparable, but now Cam is unlikely to be leaving his guardian angel at home any time soon!
Get the best advice, tips and top tech for your beloved Pets
Sara is a freelance journalist and copywriter of many years' experience with a lifelong love of animals. She's written for a range of magazines and websites on subjects varying from pet care to travel. A horse rider since the age of five, she's currently a full time pet slave to horse Blue and gorgeous, goofy English Springer Spaniel Olly. Adorable Olly has a huge sense of adventure and no sense of direction, keeping Sara on her toes.