Dog rescued from Chinese meat trade in Wuhan has netizens in tears
TikTok user documents progress of dog rescued from Chinese meat trade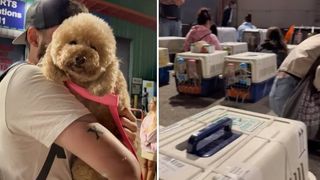 (Image credit: TikTok / @tianacalx)
A series of videos documenting a dog being rescued from Chinese meat trade conditions have gone viral after they were posted on social media.
Tiana Calderon posted a number of videos on her TikTok channel showing the journey of her new pet and highlighting the emotional cause.
The first video is captioned, 'POV: you adopted a dog from the Chinese meat trade', and shows her waiting outside to pick up her new companion, who like the other dogs, have been rescued from a slaughter house in Wuhan, according to Calderon.
Next up, we see her getting acquainted with her dog – now named Lucy – who while unsurprisingly being very clingy and nervous, eventually comes out of her shell. This is evidenced by her playing with Tiana's other dog.
Finally, the third video has her responding to someone disputing that Lucy came from the meat trade, owing to her looking to be in reasonably presentable condition.
Tiana points out that thanks to charitable donations, and due to urgent need, she was groomed and given vital care from vets before traveling out to meet her new parents.
Slightly pedantic naysayer aside, this looks to be a classic case of a negative being turned into a massive positive with many TikTokers becoming emotional at the sight of the sweet rescue.
"This made me cry. Wish they could all have a loving home," Liv wrote. "My pup is a rescue from Romania and it kills me thinking of all the other dogs."
"ALL animals deserve life and love. Every single species. Thank you for giving them a new lease of life," user @glampiires commented.
People like Tiana are doing these dogs a valuable service, rescuing them from a horrible fate and giving them the loving forever home that they so richly deserve.
Thanks to the example she has set, we wouldn't be surprised if many more follow her example. Combined, these three videos have reached well over 3.5 million likes, so that's a lot of awareness being spread.
Tiana was able to adopt Lucy thanks to China Rescue Dogs, who according to their Facebook page, are a non-profit organization who helps families adopt dogs from China at the 11th hour.
You can read more about them on their website.
Get the best advice, tips and top tech for your beloved Pets
Steve writes and proofreads buying guides, news stories and advice for Pets Radar, drawing on his lifelong experience as a pet owner. Currently sharing his house with two cats and a dog, he draws on the many highs and occasional lows of pet ownership he has borne witness to in his writing. He has worked in publishing for 15 years as an editor, sub editor and writer on a range of titles, such as SciFiNow, How It Works, All About History, Real Crime and Horrorville. You can follow him on Twitter @stevewright22