Meet Kaipo the blind Malinois, rescued from Mexico and living his best life in Seattle
Discover Kaipo's inspiring story, from neglect and abuse to a loving new home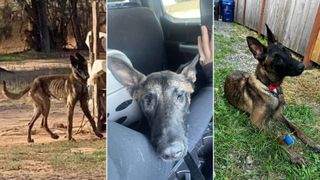 (Image credit: Ho'Ola Dog Rescue / @kaipothemal)
Kaipo the Belgian Malinois had absolutely the worst start in life, but his heartbreaking story is one with the most adorably happy ending.
For the first two years of his life, Kaiko had a miserable existence in Tijuana, Mexico: blind, starved, dehydrated and severely abused by his owners, he spent his entire time chained to a pole on a four foot leash.
His plight was noticed by neighbors and reported to Ho'ola Dog Rescue in Los Angeles, which saves dogs from the streets of Mexico and brings them back to the USA for a better life, and Kaipo was rescued and taken to a safe house in Mexico, before being delivered to safety in LA.
It's believed that Kaipo was chained up for being aggressive, and it seems likely that his original owners weren't experienced enough to cope with the demands of owning a Malinois.
The Belgian Malinois is a working dog that'll bond hard with its owner, but it needs plenty of activity and exercise and, if it doesn't get it, it can become a problem pet.
Once spirited away to safety, however, Kaipo transformed into the most loving and affectionate dog; he soon became socialized and over six months he quickly gained over 25 lbs, and it wasn't long until a family in Seattle read about him and drove all the way to Los Angeles to bring him back to his new forever home.
Kaiko's new owner describes him on Reddit as a very sweet boy, but it's not all plain sailing; he understandably has serious trust issues and PTSD, but his new family is working hard with him and looking for a trainer who help with rehabilitation and obedience training.
And thankfully Kaiko's new owners understand all about a Mal's needs, and plan to ensure that he gets all the mental stimulation, exercise and working experience that'll make him happy.
It's still early days for Kaiko but he's settling into his new life wonderfully, and has a new best friend in his owners' other dog, Azula:
He also gets on brilliantly with his new owners' kids, and loves the best dog treats and hugs, although he does have tendency to tread in his own poop. But that's a small price to pay for giving such a brave dog a whole new start in life.
You can keep up with Kaiko's story on Instagram and TikTok, and you can also find Ho'ola Dog Rescue on Instagram and maybe give them a bit of support for their sterling work.
Get the best advice, tips and top tech for your beloved Pets
Jim is a writer, performer and cat-wrangler based in Bath, who last year adopted a pair of sibling rescue cats who turned out to be effectively feral, and has spent a lot of time since then trying to get them accustomed to people (some success) and each other (ongoing project).