Blind and deaf Opal the dog jumps for joy when she senses her dad arriving home
An adorable video of blind and deaf Opal the dog greeting her owner despite her disabilities has wowed the Internet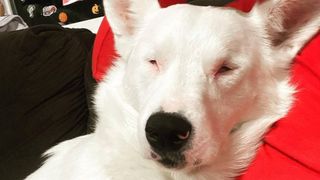 (Image credit: Instagram / @opalthedoublemerle)
Any pet owner will tell you that being reunited with your pooch after time away is something special, but the sight of blind and deaf Opal the dog excitedly greeting her owner is sure to melt your heart.
This beautiful hound lives with her two humans and her canine companion Pearl, who is also deaf. As a result of poor breeding, Opal was unfortunately born without eyesight and hearing, but that hasn't gotten in the way of building a blossoming relationship with her owners.
Luckily for Opal and Pearl, the plucky pooches receive special training to help them master basic tricks such as sitting and lying down. Despite her impairments, Opal is able to give her owner her paw and perform a shake but she also has further super dog abilities that have made her a star on the Internet.
In a video that has been widely shared across social media, Opal can be seen slowly walking around her backyard, sniffing the air and frequently looking up to check if her dad has arrived home.
Finally, after a few moments, her movement becomes excited and it seems she has picked up his scent. After bounding in the air and accidentally hitting the fence, the loving canine locates the gate and her dad arriving then jumps up to give him a few dog hugs.
According to an Instagram post written by Opal's mom Christine Bray, it has become her daily routine.
"She waits in the front yard and waits to either feel or smell his car," the caption reads. "I don't know how she can tell the difference because (our) neighbor's car pulls up and she doesn't care. She then smells him and goes crazy. It's very sweet!!"
Netizens of Reddit certainly had their own theories.
"The only logical conclusions are that this dog has an extraordinary sense of smell like all other dogs, or this dog has a psychic connection with its owner. I can't make up my mind," wrote @howlinghobo.
"That or (they) can sense the specific vibrations from his car exhaust. If you know cars you can distinguish cars by ear," user @miked003 surmised.
Many Reddit users pointed to Opal sniffing the air as evidence of her super sniffing skill.
Bray and her partner now post on their Instagram page to warn others about the dangers of improper breeding, adding that sadly Opal's 'life span will most likely be short' but always posting heartwarming pictures and videos to the channel to show Opal and Pearl truly living out their best life.
"I love my Opal so much. She is so loved and will continue to be spoiled her whole life" Bray said.
Get the best advice, tips and top tech for your beloved Pets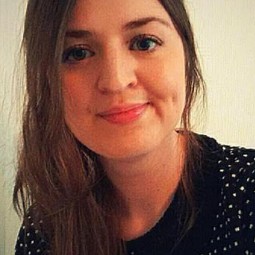 Ashleigh is Digital Editor on PetsRadar. With over 8 years of experience in print and digital media, she has acted as an editorial lead on a variety of projects, with animal themes a keen interest. As an avid animal lover, you can often find Ashleigh checking out the newest trends in animal care or looking at cute cat videos on TikTok.