Dog training is no walk in the park - here are five things to remember when you're struggling to discipline your pup
Sometimes dog owners are too hard on themselves and don't give themselves or their dog enough credit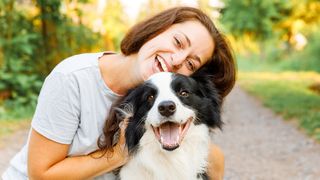 (Image credit: Getty)
Even canine owners who have all the time in the world to train their dogs have bad days and feel like they're speaking to a brick wall. Many professional trainers will most likely also admit to the more challenging times with their dogs. Sometimes overcoming these harder times is simply down to mindset.
Perhaps when you aren't in the mood for working with a badly behaved dog you hand them a long lasting dog chew and leave them to gnaw through this so that you can put your feet up. This is fine to do but the worst thing you can do is sit and beat yourself up about skipping an hour of training or not taking your dog for a longer walk.
What you should do instead is work on changing your mindset, and one person who can help with this is Bethany Johnson, one of the lead trainers at Walking Dog Training. Johnson switched her career from a pet sitter to a full-time dog trainer when she decided she wanted to help overwhelmed dog owners feel less stressed or embarrassed by challenging dogs.
Recently she put a post to the Walking Dog Training Instagram page sharing with her followers five things struggling dog owners need to remember before settling into feelings of self-doubt. You can view her post down below and then continue reading to find out her helpful words of wisdom...
Johnson wrote in her online post, "It's so easy to get caught up in that negative self-talk, and switching it up can be our biggest asset in training." Rather than dwell on the less successful moments of being a dog owner, instead, reflect on the positives and be kinder to yourself.
Below are the mental switch-ups she encourages all dog owners to consider:
Instead of feeling like you have to train with your dog every single day allow yourself days off. Your dog needs time to rest and decompress and so do you.
Don't compare yourself to other owners and their dogs. There are so many factors that come into play here, you might have a friend who is retired and has all the time in the world to bond and train with their dog or you could be comparing your dog to a totally different breed with different traits from yours. Instead, ask yourself 'how can I bring out the best in who my dog is?'.
Avoid letting yourself get embarrassed when your dog jumps up on guests or misbehaves around them. Johnson says you should tell yourself, 'I'm going to work on 'place' a little each day. Then I can give my dog the job of place when guests come over'.
Rather than allowing training to overwhelm you, take a moment to remind yourself that all the little wins add up. Set small tasks like working on a command or skill for a little while that day without putting pressure on an end goal from that training as this is often what overwhelms people.
Stop thinking you aren't doing enough. Johnson encourages owners falling into this mindset to instead accept that they are doing their best and that's what really matters. Turn your thinking so that you feel grateful for a dog that teaches you so much.
Finally, don't forget that you aren't on your own. Share the difficult times with friends or family, sometimes you just need a space to offload. Or you can seek out help from a professional trainer or ask a vet to recommend a good behaviorist.
Get the best advice, tips and top tech for your beloved Pets
Jessica is Staff Writer at PetsRadar who joined the team after spending over a year writing for the brand's sister site, Fit&Well. She is an avid dog spotter whilst out for her weekly runs and brings to the team a passion for creating informative and helpful digital content, which she has been putting to practice since graduating with a degree in Magazine Journalism in 2021.