Cuteness overload: litter of guide dog puppies breaks record
A German Shepherd has given birth to a litter of 16 guide dog puppies - the largest number in the charity's 60-year breeding programme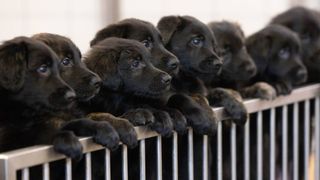 (Image credit: Twitter / @GuideDogs)
Guide dog puppies are adorable at the best of times but when there's 16 of them… prepare to have your heart melted!
These record-breaking, super cute German Shepherd-Golden Retriever puppies, who are now eight weeks old, were born as part of a breeding scheme run by Guide Dogs, the UK's largest sight-loss charity, and are the largest number seen to date in the charity's 60-year breeding programme.
It was the first litter their mother, a three-year-old German Shepherd named Unity, had ever had and is twice the average number for this breed as well as three times more than the average dog's litter.
Meet our record breaking litter of beautiful German Shepherd cross Golden Retriever pups! Their parents are German Shepherd Unity & Golden Retriever Trigger. Both Unity & all pups are happy and healthy. A full video breakdown of the litter be posted on our YouTube this weekend❤️ pic.twitter.com/CEyHmp0SwyJanuary 12, 2022
Born at the Guide Dogs National Centre near Leamington Spa in Warwickshire, England, each pup will grow up in a volunteer foster home where they will be taught their vital guide dog training.
It's hoped that they will possess loyalty, a trait commonly found in German Shepherd's, combined with the friendliness of a Golden Retriever.
Their father, a six-year-old Golden Retriever named Trigger, is one of the most popular male dogs in the breeding programme, having fathered 239 babies.
"A little of sixteen is incredibly unusual, but such a gift", explained Head of Breeding Operations, Matthew Bottomley. "The pandemic has had a detrimental impact on our charity's breeding programme and how many litters we can have, so these puppies are even more treasured".
"Our staff and volunteers have been working tirelessly to ensure all the puppies have thrived and they are now ready to start their journeys to becoming life-changing guide dogs for people with sight loss."
The Guinness World Record for the largest litter of puppies was awarded in 2004 when 24 puppies were born in one litter in Cambridgeshire, England.
Get the best advice, tips and top tech for your beloved Pets
Chloe is a freelance writer, editor, and proofreader, who has more than ten years' experience in creating animal-focussed content. From National Geographic to Animal Planet, Chloe's passion for creating fact-filled features all about wildlife and the environment is evident. But it's not just wild animals that Chloe's fascinated by. Having written more than 75 articles for PetsRadar - and having her very own four-legged friend by her side - it's no wonder that her love of dogs (and, of course, cats) has grown exponentially.
Her website, www.chloemaywrites.com, and social media pages - @ChloeMayWrites on Instagram, Facebook, and Twitter - showcase her knowledge through daily facts and trivia tidbits. For example, did you know that snails have teeth?!