Introverted dog meetup goes viral for playing out exactly as you'd imagine
Far from converting these shy pooches into social butterflies, an introverted dog meetup looked rather uncomfortable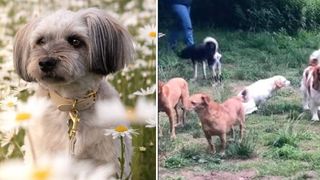 (Image credit: Instagram / @qilasinsta)
As social occasions go, an introverted dog meetup proved to be as awkward as it sounds.
Rather than get along swimmingly well, the poor pooches ended up standing around and avoiding eye-contact – looking as if they'd rather be anywhere but there!
The forced gathering, organized by a dog psychologist, was captured in a video posted on TikTok which has since gone viral.
All of the dogs in attendance have socializing issues and the meetup was designed to help them make friends. From the looks of it, more work needs to be done!
Among the dogs was Qila, a rescue dog from Russia. The shy puppy's owner wrote: "My dog is introverted so we went for a meeting with like-minded dogs. This is what happened."
The footage shows the dogs spaced apart either standing still but looking away or moving when another dog comes close.
It was a far cry from the chaotic scenes that usually ensue when a pack of dogs end up close by in a park, with the unusual video so far amassing 20 million views, nearly four million likes and a staggering 32,000 comments.
"Good hang out but let's do it again next year," one wrote. "This is the most controlled dog meet up I have ever seen!," said another.
One suggested, "they all want to talk but not first" while a poster reckoned, "they all secretly hoped plans to meet up would've fallen through."
Even so, events such as these can be useful when dealing with anxiety in dogs.
Early socialization is important for puppies and if you can draw them out of their shell, perhaps with the best puppy toys, it can make a real difference to their mental health.
"I love introverts," Qila's owner continued. "They are so personal when they show you their true color[s]. I'm so thankful I got the opportunity to find this dog group."
Get the best advice, tips and top tech for your beloved Pets
David Crookes has been a journalist for more than 20 years and he has written for a host of magazines, newspapers, websites and books including World of Animals, BBC Earth, Dogs and Canines, Gadget and The Independent. Born in England, he lives in a household with two cats but he's also keenly interested in the differences between the huge number of dog breeds — in fact, you can read many of his breed guides here on PetsRadar. With a lifelong passion for technology, too, he's always on the lookout for useful devices that will allow people to spend more time with their pets.