Tao, the blind golden retriever, gets his own guide dog
Gorgeous golden retriever has a puppy-pal to help him get around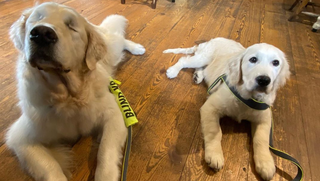 (Image credit: Instagram @tao_mr_winky)
What do you do if your much-loved dog loses his eyesight after being diagnosed with glaucoma? Well, if you are Melanie Jackson, owner of a newly blind golden retriever, it's simple – you get him a beautiful puppy to guide him where he wants to go.
Pictures of 16-week-old Oko helping his 11-year-old doggy friend Tao get around have been melting hearts on Instagram, and it's not hard to see why.
Although Tao's diagnosis of glaucoma came as something of a shock, his owner was able to teach him a few new commands to enable him to get around without his eyesight. He learnt to walk at heel without a lead, and to recognize the commands 'step up' and 'step down' to navigate kerbs, so much so that on meeting Tao, most people didn't realize he was blind. In fact, some people have even confused him for being a guide dog himself because of the sleeve on his lead which says 'Blind K9'.
Although he gained some of his confidence quickly, and was able to get up and down stairs just a couple of days after his operation, Melanie felt he'd benefit from a guide dog to help him stay out of trouble – although the little pup, as pups are want to, is often the one leading Tao into mild mischief himself.
The pair have formed a heart-warming bond, and now are inseparable – which is just want you want from a seeing-eye dog! Tao has found a whole new lease of life since Oko joined the family, and his little pal has given him more confidence to run around fields and dive in streams together. They love to play and frolic with each other, and snuggle up at night together to sleep.
Melanie is using Tao and Oko's new found Instagram fame to help raise awareness of glaucoma in dogs, a condition that causes a build-up of fluid and pressure in the eye which ultimately leads to blindness, but if caught early enough it can be preventable. Tao has also helped the Kennel Club who used his genetic markers to help identify glaucoma in other dogs with the same markers.
Meanwhile, Tao and Oko carry on proving that dogs aren't just man's best friend; they're great friends to each other too. You can keep up with their adventures on Instagram here.
Get the best advice, tips and top tech for your beloved Pets
Jamie Middleton is a freelance editor and writer who has been editing and creating content for magazines and websites for over 20 years. As well as writing about the pets he loves, he has helped create websites about tech and innovation like TechRadar.com, Innovate UK and TechSPARK, written programmes for music festivals, books on inventions and architecture, TV listings magazines, and edited publications about cars such as Lexus, Toyota and Jaguar. In his spare time he writes fiction books and poetry - or at least he does when he is permitted to by his cat Pirate, who enjoys the warmth of laptops too much to allow being creative to get in the way.