Rottweiler's raw food diet causes social media stir
Raw food diet disaster or lovely luxury meals? Dog's epic dinners branded 'not healthy' in hot debate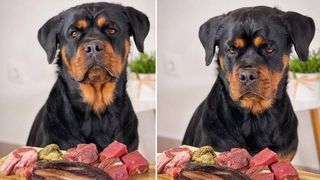 (Image credit: Instagram / @rottiekings)
A TikTok video has sparked huge debate after showing a Rottweiler's ordinary everyday meal on a raw food diet containing meat, fish and dairy products.
Uploaded by TikTok user, @rottiekings, the clip shows Odin the Rottweiler's plate being filled with these protein packed foods.
Rottiekings is a TikTok account that shares the adventures of two Rottweilers - Odin and Hera - who are believed to live in Germany according to the hashtag that accompanied the clip.
Viewed more than 67 million times, the footage shows the drooling pooch waiting patiently whilst their plate is piled high.
Raw beef is placed on the big pup's plate first, with handfuls of sardines, spoonfuls of liver and scoops of fruit and vegetables. This humongous feast was then topped off with numerous chicken necks, cottage cheese and a drizzle of olive oil.
The clip has been both popular with the platform's users as well as causing shock and concern amongst those who have watched it.
The trend has previously caused debate after researchers found that raw dog food posed a risk to public health by potentially fuelling the spread of antibiotic-resistant bacteria.
It's also been a contentious issue amongst vets, with many not recommending a diet based around raw meat due to the risk of cross-contamination. Cooking meat before eating is regarded as the safest thing to do for all family members, both human and furry.
"Studies of raw food diets have repeatedly found that raw diets predispose dogs to nutritional deficiencies and foodborne illness," Veterinarian Catherine Barnette DVM summarized to PetsRadar in her guide to the risks and benefits of a raw dog food diet for dogs.
"Potentially serious bacteria and parasites are frequently found in raw food diets, posing a risk to both dogs and their human family members."
But it's not only the health of the meal that has faced criticism.
One user, eendys, commented "that's a $70 plate right there" with another, going by the TikTok name of Lupinul, posted how "this [is] my food for one week".
Another user, called Dudebruh, "Dogs aren't wild animals anymore they're domesticated they've adapted over time to kibble feeding raw food isn't considered super healthy."
Get the best advice, tips and top tech for your beloved Pets
Chloe is a freelance writer, editor, and proofreader, who has more than ten years' experience in creating animal-focussed content. From National Geographic to Animal Planet, Chloe's passion for creating fact-filled features all about wildlife and the environment is evident. But it's not just wild animals that Chloe's fascinated by. Having written more than 75 articles for PetsRadar - and having her very own four-legged friend by her side - it's no wonder that her love of dogs (and, of course, cats) has grown exponentially.
Her website, www.chloemaywrites.com, and social media pages - @ChloeMayWrites on Instagram, Facebook, and Twitter - showcase her knowledge through daily facts and trivia tidbits. For example, did you know that snails have teeth?!