Sneaky dog pretends to be asleep in hilarious viral video
Watch this sneaky dog pretending to be asleep when he spots his owner filming him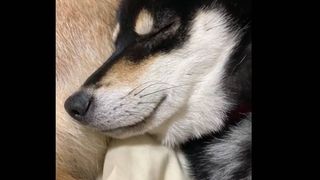 (Image credit: Reddit)
We have all been guilty of faking sleep at some point; prepare to smile as this sneaky dog pretends to be asleep - even as his owner films him.
In this cute video clip that has gone viral, it shows a dog appearing to be sleeping before quickly opening its eyes. After the pooch spots its owner filming him, he immediately closes his eyes again, takes another sneaky peek then returns to faking a snooze.
This clip was originally shared on r/AnimalsBeingDerps by Reddit user Complex_Difficulty.
It was so popular with Reddit viewers that it had received 38,000 upvotes since Monday evening. Netizens were inspired to share their stories of their own pups faking sleep.
One user posted, "Lol, reminds me of my boy successfully tricking the girl into thinking he's sleeping. Usually whenever she wants him to move out of a comfy spot or share a blanket he's hoarding, he'll fake this deep sleep breathing where every exhale causes his lips to billow out. He doesn't usually do it when he's actually sleeping, but it fools her every time."
Another user and Labrador owner commented, "My lab used to fake sleep when I would eat dinner at my coffee table. I would look at him and could see him squinting, pretending to sleep."
On the other hand, some users believed that the dog was genuinely trying to get to sleep, but its owner was interrupting him. "Could be trying to sleep, but someone is hovering over him recording him like a weirdo."
Well, whether the adorable pooch was really asleep (or not!), it is still the cutest trick in the book.
Watch the hilarious video below.
Get the best advice, tips and top tech for your beloved Pets
Cynthia Lawrence is freelance lifestyle journalist. Starting off her career in national magazines, she moved to digital and e-commerce publications. When she's not reviewing exciting products, she is obsessed with home interiors and her neighbour's cat!