Turkish stray cat takes her kittens to the vet in this adorable video
See how this Turkish stray cat gives her babies the best of care in this clip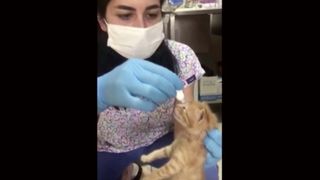 (Image credit: Karabaglar Municipality)
One Turkish stray cat showed that she was willing to go above and beyond in the maternal instincts stakes. When her kittens weren't well, she took matters into her own paws, personally escorting them to the nearest veterinary clinic.
Turkey is famous for hosting a number of stray animals – particularly dogs – but it was a cat who took the headlines in this instance.
The staff of the vets in the Karabaglar district of Izmir were taken by surprise when the cat wandered in one day, a kitten in her mouth, seemingly with complete clarity of where she was going, and left her there.
She returned again the next day with another kitten, repeatedly mewing. Upon closer inspection, it became apparent that both kittens had something wrong with their eyes. Both of them were tightly closed, likely due to the results of an infection.
"We were familiar with this cat," said one worker at the clinic in an interview with the Daily Sabah. "She was a stray roaming nearby, and we used to give her food and water. We did not know she gave birth to kittens."
On seeing that the kittens weren't well, eye drops were duly administered by the vets. "We gave them some drugs and they started opening their eyes, and later we transferred them to the veterinary clinic."
As you will see from the above video, once the treatment was given, the kittens managed to recover somewhat, and were able to peacefully snuggle up to their mom.
After this initial treatment, they were handed over to the local department, where we are happy to report that they have made a full recovery. Both kittens – along with their mother – have since been put up for adoption, where hopefully they will find a loving home.
Get the best advice, tips and top tech for your beloved Pets
Steve writes and proofreads buying guides, news stories and advice for Pets Radar, drawing on his lifelong experience as a pet owner. Currently sharing his house with two cats and a dog, he draws on the many highs and occasional lows of pet ownership he has borne witness to in his writing. He has worked in publishing for 15 years as an editor, sub editor and writer on a range of titles, such as SciFiNow, How It Works, All About History, Real Crime and Horrorville. You can follow him on Twitter @stevewright22