Terrifying moment two men steal French Bulldog from shocked owner captured on CCTV
CCTV recorded the moment the men stole the French Bulldog from the street in daylight hours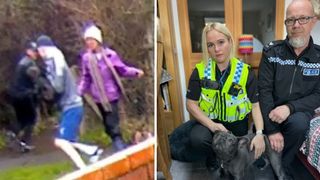 (Image credit: The Metro YouTube / West Mercia Police)
Having a beloved pet stolen is every dog owner's worst nightmare and thieves can resort to dirty tricks to get what they want. This shocking scenario happened a few days ago to Caroline Busby, 60, of Malvern in Worcestershire, UK. She was walking along a footpath with her one-year-old French Bulldog, Luna, when two men stopped to admire the dog.
As dog owners, most of us are happy to chat about our pets to admirers and Caroline talked to the men for a few minutes as one crouched down to stroke Luna. In a split second, one had unclipped the animal's collar and the pair made their escape with Luna in their arms leaving the shocked owner shouting after them.
The blatant theft was captured on CCTV from a neighboring garden. In the video posted by The Metro Newspaper, the two dognappers are shown lying in wait for Caroline, proving the theft was premeditated.
Caroline's daughter Kirsty Groves said, "They turned Luna over to presumably see if she was a male or female, and they asked my mum how old the dog was. She told them she was only one."
According to Tom Sharp of AKC Reunite, America's largest non-profit pet microchip and recovery service, French Bulldogs are particularly at risk of theft as they're small and high value. Unneutered males and females can be more desirable to thieves as they can be used for breeding purposes.
The family immediately informed the police of the theft and took to Facebook to plead for help in tracking down their pet. Just 24 hours afterwards, Luna was found in a hedge a few miles away by police and reunited with her owners. Kirsty believes Luna was abandoned due to all the publicity about her theft.
Sergeant Brian Simpkins of West Mercia Police said: "We cannot thank the community enough for pulling together to help us locate Luna by assisting us with searches and for also supporting her owner."
The police are still hunting the dognappers and are urging people to phone in with any information.
"My mum's dog is my mum's best friend, she's not just a dog. It is a family pet. They are part of your family," says Kirsty. "She doesn't want to walk her dog any more alone; she has to go with friends. She will not go on her own ever again."
AKC Reunite have issued the following advice to help safeguard your pup against thieves: If your dog is stolen, immediately report the theft to police, call your microchip company and any lost-dog or stolen-dog databases that you know of in your area, including local shelters. You should also distribute fliers and get the word out on social media.
Get the best advice, tips and top tech for your beloved Pets
Sara is a freelance journalist and copywriter of many years' experience with a lifelong love of animals. She's written for a range of magazines and websites on subjects varying from pet care to travel. A horse rider since the age of five, she's currently a full time pet slave to horse Blue and gorgeous, goofy English Springer Spaniel Olly. Adorable Olly has a huge sense of adventure and no sense of direction, keeping Sara on her toes.