Dog depression: A vet's guide to symptoms, causes and treatment
Dog depression has a number of potential causes – here's what to do when it happens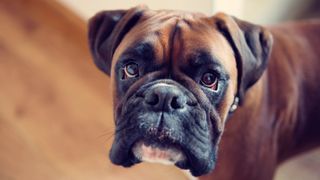 (Image credit: Getty Images)
Dogs can experience episodes of dog depression the same way we humans can sometimes feel blue from time to time.
If your pup seems out of sorts, it is certainly worth investigating to find out what's causing his sudden change in behavior. It's common to wonder if the root of the problem is a lack of stimulation; some pet owners may be concerned that they're dog is bored and seek out ways to reengage them with interactive dog toys, indoor games or simply providing them with more human contact.
However, the first step is a visit to your veterinarian to rule out any underlying illness or injury that may be contributing to the problem.
There are some other behavioral causes of dog depression to consider, and you'll need to know how to address them to help get your dog feeling like his old self again.
Symptoms of dog depression
Dog depression can look remarkably similar to human depression. Your dog may seem quieter than usual and may simply seem like he's feeling sad or "down in the dumps". Other symptoms of dog depression can include:
Withdrawing, not interacting with family
Loss of interest in activities
Sleeping more
Loss of appetite
Appearing disengaged or lost
Being clingy, seeking more attention than usual
Restlessness
Anxiety
Causes of depression in dogs
Depression in dogs is often associated with an underlying illness or injury. As you can probably imagine, if your dog is not feeling well he is more likely to be subdued and have a depressed attitude. Pain is another important cause of depression in dogs.
Signs of pain can be very subtle, so it is essential to see your veterinarian for an examination to ensure your dog is not experiencing any physical discomfort. If your veterinarian has ruled out medical causes for your dog's depression, you may need to consider emotional causes for this change in your dog's behavior. These can include changes such as:
Loss of another pet in the household
Adding a new pet to the household
Loss of a human family member
Changes in routine, such as an owner going back to work
Canine Cognitive Dysfunction (similar to senility in humans)
Stress and anxiety
Boredom
Lack of adequate exercise and environmental enrichment
Dog depression after the death of another dog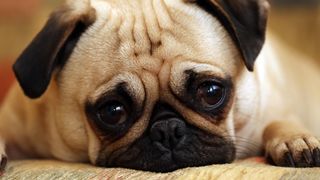 A common cause of dog depression is the death of a housemate, especially if the other dog was a close relative such as a parent, offspring, or sibling. Your dog may grieve the death of his friend in much the same way we humans grieve the death of a loved one. You may notice that your dog is more subdued than usual and does not seem interested in his normal activities.
Some dogs will eat and drink less in the first few days or weeks after another dog in the household has died. You may also notice that your dog wants to spend more time sleeping. Some dogs may become extra clingy and will want to spend all of their time seeking attention from their owners, while others may seem disengaged and distant. Many will spend the first day or two looking around for their friend or appearing lost without them. Just like with human grief, the only cure for your dog's grief after the death of a loved one is time. However, our tips to help your dog with depression may ease some of your dog's discomfort during this difficult time while he grieves.
How to help your dog with depression
If your dog's depression is caused by an underlying illness or injury, treating this medical condition is the first step to address the depression. In many cases, once your dog begins to feel better physically his attitude will also quickly improve. If your dog's depression is caused by Canine Cognitive Dysfunction (CCD) – a condition of senior dogs similar to senility in elderly humans – your veterinarian may prescribe medication to manage this condition. Be sure to follow your veterinarian's treatment recommendations closely, and let your vet know if your dog's depression does not improve as the treatment progresses.
If your dog's depression is due to other factors, such as the loss of another pet in the household or a sudden change in your family's routine, there are several ways you can help support your dog to alleviate his depression.
First, maintain your daily routines and keep life as predictable as possible for your pup, which will help lessen his stress and anxiety. Try to spend some extra time each day with your dog giving him love and attention and encouraging him to participate in some active play time with you.
Be sure to provide plenty of environmental enrichment – including exercise, plenty of the best dog toys (puzzle toys and chew toys are particularly good), and daily play time – keep your dog from feeling bored or neglected. If possible, some extra walks or a daily run in the park will do your dog a world of good during this time that he is adjusting to the change in the household.
In most cases, your dog will recover from his bout of depression on his own if you just give him a little time to adjust to the change in the household. It is not uncommon for dogs to need some time to grieve and come to terms with a loss just like we do. However, if you feel your dog's depression has gone on too long, or if your dog has stopped eating or drinking, it's important to consult your veterinarian for further advice and care.
Dealing with dog depression
Dog depression is a common condition, particularly after a sudden change in your household. Although most dogs recover from this condition on their own, you can certainly help your pup by knowing the symptoms of dog depression and intervening to address the problem early. It can be tough to see your dog looking depressed, but the good news is that a little time and some extra love is all most dogs need to help them get back to their happy old selves.
Get the best advice, tips and top tech for your beloved Pets
Dr. Elizabeth Racine is a small animal general practice veterinarian covering all things pet health and wellness. Her special interests include veterinary behavior, nutrition, and internal medicine. As a freelance writer, Dr. Racine has written content for major companies in the industry such as the American Kennel Club, Merck Animal Health, Bayer PetBasics, Elanco, and CareCredit. In her free time, Dr. Racine enjoys playing trampoline dodgeball, hiking with her beagle Dasher, and spending time with her three mischievous cats. Dr. Racine can be found at www.theveterinarywriter.com and at https://www.linkedin.com/in/eracinedvm/