Should you buy a Halloween costume for your pet? Read our advice...
Whilst dressing up pets may seem a ridiculous idea to some, it has become a very popular trend over the last few years.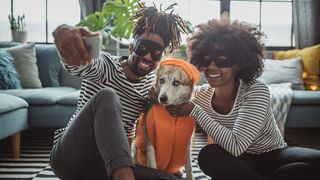 (Image credit: Getty Images)
From pumpkins to hot dogs, superheroes to pirates, the novelty of getting our furry friends in on the Halloween festivities is undeniably on the rise. Even PetsRadar has it's own guide to the best Halloween dog costumes as proof.
In 2019, the American retail federation estimated that Americans were spending nearly half a billion dollars on outfitting their pets for October 31st - a figure that's doubled in the last decade.
In the UK, Halloween spending has gone from £21 million to £330 million since 2001 and high street retailers like Marks and Spencer and H&M are stocking pet outfits to meet demand, and pet retailers and fancy dress companies are also offering a wide range of fancy dress options for pets of all shapes and sizes.
For many of us, involving the family pet in the fancy dress parade is a fun and festive way to ring in the spooky season and there has certainly been no shortage of viral content showcasing the weird and wonderful ways to do this.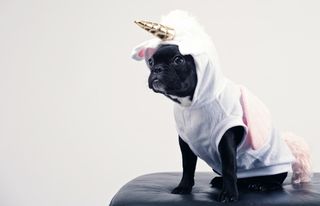 Two months before October 31st, the hashtag #dogsincostumes already has over 200,000 posts on Instagram and celebrities like Chrissy Teigen, Miley Cyrus and Ariana Grande have in the past jumped on the trend.
But despite the popularity, a number of animal charities and vets oppose the practice as distressing to the animals, so before you line up a purchase for the spooky season, there are a few things to bear in mind, to make sure what's fun for you isn't cruel to your pet.
Firstly, not all animal costumes are created equally. If you're set on kitting out your pooch in a swashbuckling buccaneer outfit, you want to make sure they are as comfortable as possible and their movement isn't restricted.
Dr Judy Morgan, a veterinary practitioner and owner of Naturally Healthy Pets advises looking out for tell-tale signs that your pet is not happy in their festive skin. These include a whitening or a redness, and rapid movement of the eyes and scratching/biting of the material.
Because many costumes only come in a limited range of sizes, it's important to find one that does not restrict their movement or cause overheating from being too loose or tight. If your pet's tail is lowered and they seem skittish when moving around, it is a sign that they could be in distress.
You should also be mindful of the quality of material used for the costume, as cheap hard plastics and nylons could cause irritation or further discomfort – much the same dilemma we face when picking out our own Halloween costumes!
These considerations are especially important if your pet has existing medical conditions or suffers from genetic breathing problems like pugs, bulldogs and boxers, says Barbara Davis, a certified dog behavior consultant.
If you're opting for a hood or hat option for your furry friend, it is very important to make sure they sit atop your pet's head causing no impairment of vision. Dogs and cats need to have full perception of the world around them to feel safe and secure so maybe think twice about the floppy sombrero.
Last but not least, try to avoid keeping your pet in costume for too long. Sometimes a couple of minutes to let the family see and grab those pictures for Instagram is all you need. Or perhaps the more comfortable parts of the costume can stay on, but any headwear is only worn for a very short time.
There are less invasive ways to get your pet involved in the Halloween fun. Adding a decoration to their collar can have just as much of a fancy dress effect and will cause less stress to the animal – this is a great balance.
In some cases, kitting out your four-legged friend is nothing new, of course. Many dog breeds, especially those naturally low in body fat and slight in frame like greyhounds and chihuahuas, benefit from coats and jumpers in cold weather, and who would blame you for picking one with an adorable theme?
Booties and shoes can also be a helpful accessory to many pups with sensitive paws or injuries, even if they take a bit of getting used to!
Ultimately, dressing up your cat or dog can be a fun way to add to the festivities of Halloween and will definitely go down well with your social media followers. Just be mindful of your pet's wellbeing when outfitting them in the cute and the ridiculous.
Get the best advice, tips and top tech for your beloved Pets