Everything I learned about grooming while running a pet health spa and how you can do it at home
Grooming your dog at home can be that easy or that difficult but don't worry, help is here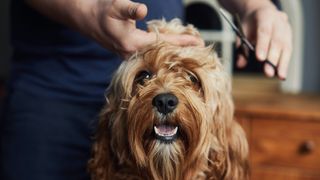 (Image credit: Getty Images)
Back in 2008 after fifteen years of working in veterinary practice, writing veterinary and pet care books and articles, I embarked on a new adventure. I wanted to fill a space in the UK that no one — at the time — was providing pet owners with and so I opened a pet health spa.
Although I've since moved on to other things, what I've learned is that grooming can sometimes be overlooked, avoided entirely, become a pet parent's obsession or land somewhere in between these versions — which is why I'm so keen to pass on everything I know about how to groom a dog at home.
Approach grooming and your dog's well-being incorrectly and you can end up with all sorts of health, behavioral and coat problems not to mention expense. However, approach it correctly using the right tools and methods for your dog's coat and you will find it enjoyable, simple and your dog will be happy and healthy. Grooming not only keeps your pets in great condition, it lifts their spirits, increases their bond with you, prevents health problems and promotes well-being.
The world of doggy hair care is full of myths and with so many tools, products, advice and crazes around it is understandable to feel bamboozled. Our 10 dog grooming tips from a vet features a ton of great advice, but for now, read on to discover what coat type your dog has, the specific tools to use for it and seven fabulous hair and skin tips.
Different dog coats and how to groom them
The level of grooming required by your dog primarily depends on the coat type they have. Long-haired dogs require more maintenance than smooth coats for example, but I have de-muddled all this for you because knowing your dog's coat type, what tools to use and when, is a blessing I can impart to you, making you and your dog's lives easier.
Smooth coats
Smooth coats have a single layer of fur made up of soft short hairs and only require a brush once a week. No clipping and trimming of their fur are necessary making these dogs one of the easiest to maintain. Due to the slickness of their coats, brushing often feels like being petted (to your dog) so hopefully, their weekly grooming is a happy experience.
Recommended brushes and combs to choose from include:
Double-sided soft brush
Slicker brush
Curry comb
De-shedding comb or rake during the shedding seasons
Grooming mitt/glove
A damp cloth or chamois leather to finish off (produces a great shine)
Double coats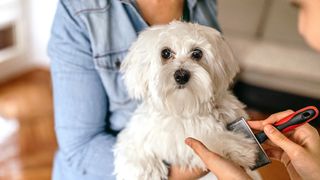 Double-coated dogs demand more input from you to prevent their hair from becoming tangled and knotted. As the name suggests, there are two layers of fur. The undercoat is soft, fine and dense to insulate or protect them from heat and cold. The topcoat consists of coarser hair which is longer and water-resistant, so they are less likely to be at the mercy of the elements such as rain and snow.
Their coats require brushing every few days and during shedding season, you may need to increase this to daily grooming as the undercoat is released. It's helpful to brush backwards against the fur, then smooth it back into place to loosen and remove debris and shedding hair.
Unless for medical reasons, it is important not to clip these dogs. A scissor trim of any unruly longer hair under the abdomen, legs and paws is fine but clipping can damage the coarser guard hairs of the topcoat whilst exposing the undercoat. This can lead to a problematic condition called coat funk.
Recommended brushes and combs to choose from include:
Double-sided soft brush
Slicker brush
Curry comb
De-shedding comb or rake especially in shedding seasons
Grooming mitt/glove or soft bristle brush to finish and smooth
Curly and wavy (wool) coats
These types are high maintenance and double coated with clipping and trimming advised approximately every 6-8 weeks. Although these dogs are low shedders, they still require brushing every 1-2 days as their fur tangles and mats easily. Regular brushing also helps to remove any debris they may have collected in their coats whilst outside. If a tangle is discovered, begin combing the hair at its root and work towards the tip. Holding your fingers between the skin and comb helps to reduce pulling and discomfort.
Recommended brushes and combs to choose from include:
Slicker brush
Medium or wide tooth comb to remove mats and tangles
De-matter comb to remove any knots unsuccessfully detangled with previous brushes
A soft bristle brush to finish and smooth
Long and silky coats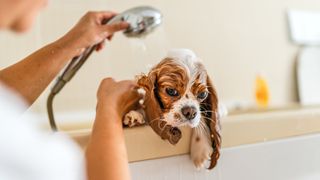 A soft and fine coat may need trimming or clipping every few months to keep any feathers or fringes on their abdomen, tail and or legs under control and tidy. Long and silky hair requires brushing or combing through every few days to prevent tangles and remove any debris entangled from being outside.
Recommended brushes and combs to choose from include:
Pinhead brush or slicker brush – gentle brush in the direction of the hair to remove loose hair
Medium or wide tooth comb to remove mats and tangles
De-matter comb to remove any knots unsuccessfully detangled with previous brushes
A soft bristle brush to finish and smooth
Wire coats
Probably the easiest of all the coat types! The fur is short, thick and bristly and feels rough to the touch. Ideally, these robust coats require hand stripping by a professional two to three times a year, a technique where dead hair is plucked out by hand. However, wire-haired dogs may be clipped if you prefer without causing coat funk. In between their appointments, brushing weekly works to keep your dog clean and feeling perky.
Recommended brushes and combs to use include:
Pinhead brush
Slicker brush
Medium or wide tooth comb to finish and smooth
Seven tips for grooming at home
Use pet shampoos, not human ones. Pet's skin has a pH of around 7.4. Human shampoos have a pH between 5.5–6.5 and are thus too acidic for pets, causing dry, itchy, red, flaky or irritated skin.
Overbathing can cause dry and irritated skin and flare-up allergies. A bath and dry around every 3 weeks is plenty and an excellent time to check if their ears, anal glands and nails need attention.
Brushing and combing help to increase circulation and natural oils whilst decreasing dandruff and the frequency of wet baths needed.
Dry shampoos are a fantastic alternative to wet baths and can be used to remove localized areas of dirt and smells or as a spruce up.
Whether bathing or brushing, begin at the head and work your way down to the tail. This method ensures no part of your dog's fur is missed.
Some breeds shed less than others, but all dogs shed all year round. Traditional shedding seasons are spring and fall.
On thin hair or areas with little coverage, use softer brushes so as not to damage the skin or cause discomfort to your pet.
Grooming at home doesn't have to be taxing or a chore, it just needs to be incorporated into your routine. Most reputable groomers and salons are more than happy to offer advice tailored for your dog and I encourage you to seek this. Do your due diligence as unfortunately, like with people hairdressers, not all groomers are the same and it can be trial and error to find the right fit and level of trust. Will I revive and reinvent my pet health spa? Who knows what destiny holds but hair care has never been so good and I do hope my shared experience has served you.
Get the best advice, tips and top tech for your beloved Pets
Annaliese qualified as a veterinary nurse from Edinburgh and went on to attain a diploma in advanced veterinary nursing in surgery from London. Throughout this time, she worked in both small and mixed veterinary practices and gained head nurse status. Responsible for training other veterinary nurses she also ran the nursing department, nurse clinics, and patient care protocols.
She has looked after 1,000s of patients and owners and created new higher standard nursing regimes, whilst specializing in surgery and anesthesia. After being asked to co-author multiple veterinary nursing textbooks, Annaliese continued to write for further mainstream publications in the UK and USA and after twenty-plus years in both the veterinary and pet care professions, she hung up her scrub suit and now writes full-time.