Five things I wish I had known before my dog ripped her ear
I went through a dog owner's worst nightmare and had to carry out emergency first aid on my dog. This is how we managed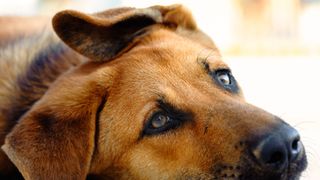 (Image credit: Getty Images)
One of the scariest things that can happen to any dog owner is an emergency injury.
My personal experience with this started on a normal dog walk with my lurcher, Dixie. We were working on her recall, using some of the best dog treats, as a reward when she dived into a hedge out of my sight. When she ran back to me her face, neck and chest were covered in blood and I initially thought she had killed something before realizing that the blood was hers. She didn't seem all that bothered that she was injured, but I immediately clipped her lead back on and started inspecting her to try and find the source of the bleeding.
Below, I have collated a quick list of five things I wish I had known before experiencing this nasty situation with Dixie. The list is followed by a more in-depth account of the experience and some invaluable advice we gained from two canine experts, including veterinary surgeon Dr. Kirsten Ronngren and veterinary nurse Nina Downing.
Veterinary surgeon Dr Kirsten Ronngren, DVM MRCVS, joined ManyPets in 2022. Alongside her extensive experience as a vet in small animal and feline-only clinics, Kirsten is passionate about online content creation. Kirsten's a regular on ManyPets' social media and video content with her no-nonsense attitude to keeping customers' pets happy and well.
Nina Downing became a Veterinary Nurse in 2000 after training with mixed animals, including horses. She gained experience as a Veterinary Nurse in Australia, working with exotic species. Upon returning to the UK, she initially joined the UK charity PDSA (People's Dispensary for Sick Animals) and later transitioned into emergency care, becoming a Head Nurse. Afterward, she worked as a Midwife in the NHS for 10 years but eventually returned to her passion, veterinary nursing. She also trained as a dog groomer at South Staffordshire College and later taught Animal Care and Veterinary Nursing.
Five lessons I learned from the experience
1) Identify exactly where the injury is - this took me ages and I now carry baby wipes in case of similar emergencies so I can clean the dog up a bit before getting home and put pressure on the wound sooner.
2) Clean the area as soon as you can - preventing infection is vital, so try and get the wound clean. You may have to argue with your dog about this.
3) Put pressure on the wound - This will stem the flow of blood and help with clotting. Try to use something clean like a cotton pad or some tissue.
4) Be firm - Your dog won't like what you are doing when you're cleaning them up and putting pressure on the wound, but it is in their best interest to do so. Dixie resisted me to start with and was very vocal about me touching her injury, but once she realised I wasn't going to leave her alone she settled down and let me treat her.
5) Go to the vet - Even if you have stopped the bleeding, for peace of mind and to ensure that your dog really is ok, it is worth taking them to the vet to be checked out. My dog hates the vet, so I was in two minds about whether to take her, but I'm glad I did to confirm that I had done the right thing.
Working out what to do when it happened
When Dixie initially ran up to me looking like an extra in a horror movie, I tried very hard to stay calm and identify the source of the bleeding. I wasn't entirely sure what was bleeding until I managed to get us home and clean the site a bit with warm, salted water. Dixie did not appreciate me fussing with her, but allowed me to bathe the blood from her face and neck until I realized the source of the bleeding was a tear in the tip of her ear. Although I didn't see exactly what happened, I assume that she caught her ear on a bramble (abundant at this time of year) and pulled away, causing the tear.
"Small wounds or lacerations are not uncommon injuries in our pups, especially those that like to spend lots of time outdoors. Ears can be tricky, as they are extremely vascular and love to bleed everywhere - even for small cuts!" explains Ronngren.
We also spoke to Vet Nurse, Nina Downing, who works for the UK Charity the PDSA, who gave us her tips and tricks on how to reduce anxiety around pet injury, as well as being prepared for potential accidents. "It can be worrying if your pet gets injured, especially if you're out and about and don't have anyone with you for support, but the most important thing to do is not panic! We always recommend carrying a lightweight pet first aid kit with all the essentials you'd need should an accident happen."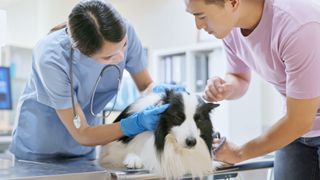 What the vet said
"In case of ear lacerations, we typically tend to recommend gentle pressure to help create a clot, and try to keep the area clean. Warm water alone is safest, but if you have access to a diluted pet safe antimicrobial wash such as HibiScrub (which contains chlorhexidine) that can be helpful too," Ronngren advises.
When I finally managed to get Dixie to my vet, the bleeding had mostly stopped. She helped me to clean her up further and inspected the wound, which had finally clotted. She advised me to pinch the wound again if it reopened and ice it if necessary to bring down any swelling and promote clotting. I expected her to bandage Dixie's ear to her head but she explained that this was a bad idea for little ear tears, like this one.
"Be careful if trying to apply any sort of bandage, as it can be easy to make these too tight and unintentionally cut off circulation to the ear flap," said Ronngren. "Dogs love to shake their head and disrupt the clot formed so often ears will continue to bleed and make a big mess for pet owners, so you may need to keep some pressure on it until you get to the vet,"
I experienced plenty of head shaking and am still finding little specks of blood up the walls of my kitchen weeks after the incident!
What to do if this happens to your dog
"Your pup should see their vet as soon as possible, and they can help decide if a few stitches are needed, vs. something like tissue glue. Once this is addressed, lacerations tend to heal well," said Ronngren.
My vet sent me home with some tissue glue and congratulated me on sealing the wound so successfully, but also said it was a good move to bring Dixie in, particularly when I wasn't sure what to do.
"If your pet becomes very stressed, be careful not to get bitten. Even the gentlest and calmest of pets can bite when they are frightened, in pain or injured. Call your vet for advice, they may advise to apply a home-made muzzle or wrap a rolled up towel around their neck (not restricting breathing) so you can safely move them and take them to your vet," advises Downing.
Get the best advice, tips and top tech for your beloved Pets
Lou is an experienced writer and keen dog lover who works at PetRadar's sister site, LiveScience. When Lou isn't covering health and fitness, she's busy spending time with her family dogs or growing all kinds of veggies and flowers on her allotment.