19-year-old rescue dog gets a 'bucket list' after family dumped her at a shelter
Elderly Annie was left at a shelter by lifelong owners, now she has a new lease of life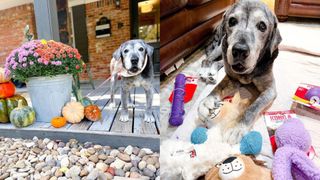 (Image credit: Instagram, @dallasanimalfoster)
Annie is a 'super senior' that was surrendered to Dallas Animal Services back in June, who melted the heart of her foster owner, Lauren Siler.
"They claimed that she was no longer eating and could not walk," says Lauren, on her Instagram page dallasanimalfoster. "That could not be further from the truth. We see this all the time in rescue. People dropping off dogs at the shelter and making false statements to avoid being judged," she says.
It is heartbreaking to see a family dog surrendered in her twilight years, but unfortunately a common occurrence, with rescues often taking in dogs aged fifteen and over when owners no longer want to deal with their care. Elderly dogs often have special and sometimes expensive health requirements that people cannot or are not willing to cover any more. Thankfully, Annie's story has a happy ending.
Lauren and her roommate Lisa Flores (@lisaflores_85) took Annie home and put together a 'bucket list' of things for her to experience in her retirement. The lucky pooch has been on a road trip, ridden in a wagon, painted a picture, celebrated Christmas in July and had a relaxing spa day, among other things. Their other elderly foster, Tippy, also has a bucket list that his is filling out.
Annie is one of many dogs taken in by Dallas Animal services every year, with an Instagram post by Lauren explaining that people often underestimate what a commitment owning a dog is.
"There are too many backyard breeders thinking they can make a quick buck off of a litter of puppies, too many people getting a dog that haven't taken into consideration the 10 to 15 year (in Annie's case 20 year) commitment that comes along with it, and the irresponsible dog owners that just wash their hands of their animals when they become an inconvenience," she says. "The shelter is filled with seniors dogs that are alone, confused, and in pain."
Thankfully, kind people like Lauren and Lisa exist to make sure these lovely dogs spend their last years living the best life they can. Lauren refers to their home as the "L&L Pet Resort and Retirement Home" and we agree - these pooches are pampered and loved exactly as they deserve.
"We were told she would likely be with us for a month and here we still are. Ever since then we have been trying to accomplish just that…. Spoil these old dogs silly," explains Lauren.
"Annie is doing great, tells us when it's meal time, loves "playing" with the cats, sitting in the sun, and smelly cod fish snacks. While no one knows how much more she has in her… we will keep helping make adventures happen, give her extra treats, make sure she doesn't miss a meal, and reminder her how much she has inspired so many… until she tells us it's her time to."
Annie is thought to be a black lab, although her face is mostly white now, and despite being given a month to live she has been enjoying her time with Lauren and Lisa for more than four months now, which just shows a little love and care can go a long way for an old dog.
Get the best advice, tips and top tech for your beloved Pets
Lou is an experienced writer and keen dog lover who works at PetRadar's sister site, LiveScience. When Lou isn't covering health and fitness, she's busy spending time with her family dogs or growing all kinds of veggies and flowers on her allotment.