Adopted Pit Bull smiling after settling in his forever home melts hearts online
Hearts melt across the internet after seeing a Pit Bull smiling on his first night following adoption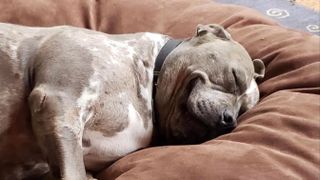 (Image credit: Reddit)
This sleeping Pit Bull has every reason to smile – it's his first night in his forever home after finally being adopted.
Laying on his big, comfortable-looking bed, he certainly looks content. "His smile made me melt inside," his new pet parent said. "I knew I made the right choice!"
The photo was shared on Reddit where it quickly gained more than 31,700 votes and more than 350 comments among followers of the popular Subreddit "rarepuppers".
first_night_home_after_being_adopted from r/rarepuppers
Some commenters said they were holding back tears while one said Pit Bulls "do a really good job of showing their feelings and showing their happiness."
The poster later revealed there were actually three Pit Bulls in this particular household and dismissed suggestions that members of the public may not be happy if the dog is taken for walks in public.
"My community of very pro-pitbull," the pet parent said, "but I live on [a] 100 acre property so we go on long walks on my property and rarely see anyone. My dogs have so much room to run around and explore."
Pit Bulls do have a fearsome reputation and the breed has been banned in England since 1991 because it is seen as a dangerous dog.
But, as our 10 pawsome Pit Bull facts point out, they are actually one of the friendliest dog breeds – ranked fourth out of 122 breeds for most affectionate and least aggressive dogs by the American Temperament Society.
Even so, dogs that are often mistaken for Pit Bulls stay in shelters three times longer than other dogs, according to a study published in the journal PLOS ONE. There have been attempts to rename the breed with names such as New Yorkie and St Francis Terriers but none have stuck.
Get the best advice, tips and top tech for your beloved Pets
David Crookes has been a journalist for more than 20 years and he has written for a host of magazines, newspapers, websites and books including World of Animals, BBC Earth, Dogs and Canines, Gadget and The Independent. Born in England, he lives in a household with two cats but he's also keenly interested in the differences between the huge number of dog breeds — in fact, you can read many of his breed guides here on PetsRadar. With a lifelong passion for technology, too, he's always on the lookout for useful devices that will allow people to spend more time with their pets.