Ukrainian TV star risks life to save 100s of pets
Alexei Surovtsev is on a one-man mission to rescue stranded pets from his hometown of Irpin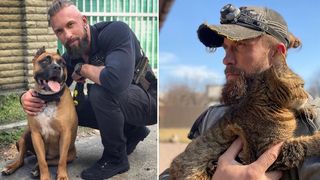 (Image credit: Instagram / @surovtsev.alexei)
Alexei Surovtsev may not be well known outside his native Ukraine, but in his country he's famous as an actor and reality show contestant. In happier times he appeared on Ukraine's version of Dancing With The Stars, but now he has swapped his dance shoes for combat boots.
He's fighting a one-man mission to rescue stranded pets from his hometown of Irpin, which has been largely destroyed in the Russian Kyiv offensive. His Instagram account shows photos of him outside ruined buildings and wrecked vehicles, or holding up cat carriers with rescued felines and other pets.
Surovtsev, who is also a three-time national striptease champion, makes frequent sorties into the warzone and brings back up to 30 animals a day. Some he keeps at his own home and others are temporarily rehoused at a veterinary clinic.
Many pets are returned to their owners, while others are taken out of the country for rehoming. Rescue attempts have been made more difficult by the destruction of the main vehicular bridge across the Irpin river, around a month ago.
In the background of some videos of the social media videos, gunfire can be heard.
"Yes, it's dangerous! Yes, it's hard! Yes, scary! But when you see these frightened, devoted eyes, you realize that it is not in vain," Surovtsev wrote on social media.
He has recently launched a fundraiser for the clinic to build a new shelter, and has been appealing on his Instagram account @surovtsev.alexei for donations.
"So friends! Now I need your help. As you all know, every day I pull dozens of animals from Irpin. Therefore, it was decided to expand the shelter at the ASTI clinic which I take 'abandoned' animals. I want to open a fundraiser for this shelter. We need a separate room where they can be given medical assistance, fed and cared for until [they] find their owners."
Surovtsey's Instagram posts attached hundreds of comments from animal lovers, who call him a hero and an angel.
One commenter posted, "Thank you to the brace, merciful animal rescuers and a huge thank you to you, Alexei," while another fan commented, "Dear Alexei, thank you for your huge heart. A salute for everything you do to save animals, they are defenceless like children. May God keep you safe."
Only 3,500 of the city's 60,000-strong population have stayed in Irpin, with many of other residents fleeing during the invasion of Kyiv in March 2022.
Get the best advice, tips and top tech for your beloved Pets
Sara is a freelance journalist and copywriter of many years' experience with a lifelong love of animals. She's written for a range of magazines and websites on subjects varying from pet care to travel. A horse rider since the age of five, she's currently a full time pet slave to horse Blue and gorgeous, goofy English Springer Spaniel Olly. Adorable Olly has a huge sense of adventure and no sense of direction, keeping Sara on her toes.