TikTok star Stepan the cat flees Ukraine to safety in France
The World Influencers and Bloggers Association helped Stepan the cat, who's famous for his sullen cocktail videos, flee war-torn Ukraine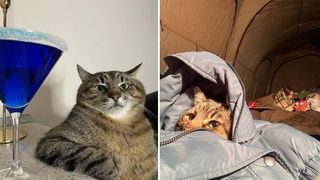 (Image credit: Instagram / @loveyoustepan)
Since 24 February, over three million Ukrainians have been forced to leave their native country to seek refuge neighboring countries such as Poland. Among them was Stepan the cat, a 13-year-old Ukrainian rescue feline who's become one of the most famous pets in the world.
For two weeks Stepan's millions of social media fans held their breath, as his feeds went silent. Fans checked in daily but there was no news.
Finally, on 16 March, Stepan's owner Anna posted an update on her Instagram account detailing an attack on her home in Kharkiv.
"Early in the morning we were sleeping at home. At 5am, some explosion was heard, and I didn't even understand what it was," she wrote.
"We realized that the war had come to our house. We spent two nights in the basement and without electricity for a week. Then we managed to leave the city. Kharkiv volunteers helped by taking us to the railway station."
"When we reached Poland, we were offered help from the World Influencers and Bloggers Association from Monaco. They helped us get to France to wait for the very day when we could return home."
Stepan the cat amassed his huge following for his photos and videos where he's chilling next to a cocktail with the long-suffering expression of someone who's been stood up for a date.
After being rescued by Anna after she found him on the streets as a kitten, he shot to fame during lockdown. He counts celebrities such as Britney Spears among his fans, and he's even appeared in an ad for Valentino.
Stepan's online fans rallied round, and by the time Anna and her two sons had make it across the Polish border, they were standing by to help.
The World Influencers and Bloggers Association, an organization which aims to unite social media stars globally, had named Stefan the cat as one of its top content creators last year. So when CEO and founder Maria Grazhina Chaplin heard the news, she knew she had to help. The association helped to smooth Stefan's passage through Poland and rented a safe house for the family in France.
After a series of Instagram posts showing the courageous cat looking out of the train window en route and snuggled into his owner's jacket, Anna's latest update finishes: "We're all right now. We worry very much about our relatives in Ukraine and will do the very best we can to help our country."
So far the post has almost 500k likes and 15,000 comments offering love and support, with fans saying: "I am crying with joy that you're all safe. I've been so worried!" and "Thank you for sharing. So relieved."
Hopefully Stepan will soon be back to doing what he does best – staring grumpily into a cocktail and delighting fans.
Get the best advice, tips and top tech for your beloved Pets
Sara is a freelance journalist and copywriter of many years' experience with a lifelong love of animals. She's written for a range of magazines and websites on subjects varying from pet care to travel. A horse rider since the age of five, she's currently a full time pet slave to horse Blue and gorgeous, goofy English Springer Spaniel Olly. Adorable Olly has a huge sense of adventure and no sense of direction, keeping Sara on her toes.