The Internet is trying to get its head around this German Shepherd-Corgi mix
If you've never seen one before… you're welcome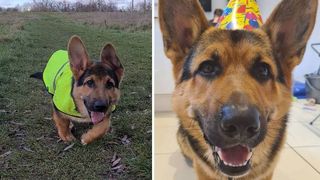 (Image credit: Instagram / @bearbigpawlonngboi)
What's black and brown with big paws and adorably short legs? Why, it's a German Shepherd-Corgi mix of course!
And if you've never seen one before, you're not alone. Millions of people have been introduced to the cross-breed thanks to a TikTok account called bearbigpawlonngboi, which has amassed more than 169,000 followers since its launch in late 2020.
The account documents the everyday adventures of Bear, the two-year-old Corgi-cross in question, following him as he does everything from stealing his owner's pack of Pringles to stealing his owner's new soccer ball (a scroll through the account will show you that stealing things is one of his favorite pastimes).
He also has a serious soft spot for socks and shoes, with several clips showing him in a mischievous mood making off with a wide variety of footwear.
And, thanks to his deceptively low profile, he's able to duck under furniture to evade his owners as they try to reclaim their shoes.
But, while his thievery may steal the limelight, it appears most viewers are just shocked to see these two breeds meet in one pint-sized pup. Many have taken to the comments to share their disbelief at, and adoration of, the heart-melting pet.
"That's a combo I never knew I wanted to see, but damn am I glad I did," one commenter says, with another exclaiming: "That's one beautiful puppy!"
Several fans said Bear, known for his thieving tendencies, had stolen their heart, with another adding: "Oh my god, they (German Shepherds) are finally available in travel size."
And travel size, he is. According to videos on the account, Bear stands at just two-feet tall with Corgi ears and legs, but has a "scary German Shepherd bark" and a coat to match.
His videos have been seen around the globe, with the account's most-viewed video surpassing 3.3 million views and 404,000 likes.
Get the best advice, tips and top tech for your beloved Pets
Having grown up on farms in rural south west England, there has rarely been a moment in Harry's life when his home hasn't been filled with a cacophony of animal noises. From dogs, cats, hamsters and rabbits to chickens, goats, tortoises and a particularly mischievous lamb, he has always enjoyed being surrounded by a wide variety of pets. Currently, he enjoys living in the (comparatively quiet) company of his one-year-old cavachon, Archie. As a writer, he started his journalistic career in 2018 as a reporter earning bylines in more than 70 regional and national UK newspapers over the next three years. After this, he began writing for magazines, producing features and reviews for titles including Men's Health, Good Housekeeping, Elle and Esquire.