Bill Turnbull interview: Pet Sounds host on keeping your pets calm this fireworks season
The host of Pet Sounds on Classic FM, Bill Turnbull, on how he got involved with this popular pet-themed radio show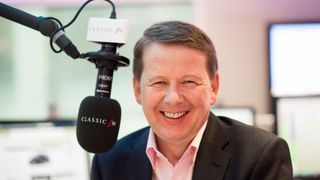 (Image credit: Classic FM)
Talk to a pet owner around Bonfire Night, and it's likely they won't share many others' enthusiasm for this time of year. It can be a painful experience as their pets cower or otherwise act up in the face of loud bangs from fireworks that seem to take place long before and after Guy Fawkes Night itself. It's a stressful time for your pets, and in turn a difficult time for you, the owner.
Thankfully, help is at hand. For the third time since 2018, Classic FM will be home to Pet Sounds. Taking place over two nights (on Guy Fawkes Night itself on Thursday 5th November from 7pm to 10pm, and Friday 7th November from 7pm to 9pm), it aims to make things easier for both pets and their owners by playing an array of classic music in order to induce a calming effect.
At the helm is host Bill Turnbull. A multiple dog owner himself (he has three black labradors), previous experience left him only too aware of just how traumatic fireworks can be to pets.
"We used to have a black lab, Ella, who was terrified by the sound of fireworks," recalls Bill when he spoke to PetsRadar. "She would go and hide under a table, even though she was used to the loud noises, so I do my best to keep our dogs away from that sort of thing."
Even so, complete isolation from fireworks isn't possible in this day and age. "The current trio are fortunately not too close to fireworks. We heard some fireworks the other day from the nearest town two miles away, and they sort of looked interested, wondering what it was."
His experience with dogs meant that Bill – who currently presents Songs Of Praise, and was also a presenter on the BBC Breakfast show from 2001 to 2016 – was the obvious choice to helm Pet Sounds when the opportunity came about.
"I've been with Classic FM for four years now – everyone there knows that I'm the dog guy! Occasionally I mention [my dogs] on my programme on Saturdays and Sundays. As a result, when it came to doing a special programme for pets, the guys at Classic FM thought I would be ideal for it, and it's been a real pleasure.
"This is the third edition of Pet Sounds. We started in 2018 two years ago, and it's been building ever since. The idea was to play music to pets and their owners at a particularly difficult time, just when the fireworks were maybe at peak liftoff, so when everything is banging and whooshing, pets can be inside, calm, with their owners, just chilling and listening to the music."
This simple formula has proven to both be a hit with viewers. Last year on the day of the shows, digital listening hours on Classic FM went up by 94% compared to the rest of the month. Its appeal has been hard to escape. While Bill admits to initially not being aware of how positive an impact classical music can have, the results are hard to argue with.
"I certainly knew how fireworks could appear very threatening, but if I'd known just how useful classical music could be for pets – there's more than one study that shows for pets, as it does for humans, that classical music lowers your blood pressure and stress levels – and it certainly seems to work. We here play classical music to our dogs when we go out, and they're big fans of the music, they certainly haven't complained!"
Pet Sounds has successfully been able to gain momentum to the point where it is now a permanent fixture in pet owners' diaries. For Bill, this has been a rewarding experience.
"Last year we had hundreds of messages, lots of people sending in pictures and videos of their pets looking relaxed and peaceful. There were a lot of people tuning in, and the emails and text messages were just flooding in. I get a reasonable number on my shows, but this was beyond anything I'd had.
"People were sending in photographs of their dogs mostly, but also their cats, just relaxing, saying, 'Before the programme started, hearing fireworks, the dogs and cats were inconsolable, then the music came on, and they were just chill'. We got a message from a tortoise, which was fun. I think we even got one from a horse!"
While the more unusual messages are always memorable, Bill is happy with any kind of response. "If we just get one then I'll think that was a success, so I'm looking forward to getting many many more on Twitter this year, of course. As they come in we read them out live and give them a mention.
"The nice thing about it is that we can react live – it's a collaborative show, if you like. We play the music, and people out there listening tell us how they're getting on with it, which is rather nice."
As a Classic FM host, Bill's passion for classical music comes in handy here, providing him with a pool of potential tracks to play. But what is it about classical music that makes it much more effective than other genres?
"I suppose the nature of the music," responds Bill. "It's gentle, you haven't got the bang-crash of rock – well you do, there are some very lively pieces, but it lends itself much more to a gentler mood. It just makes you feel calmer."
As befitting the subject matter, the tracks will have an animal-themed bent. "We're going to play soothing music, but also some pieces that are linked to composers who were pet people. We'll play Fauré's Pavane, because he was known as The Cat by his friends as he was so good looking. We'll have Wagner's Wesendonck Lieder, because he used to have a Cavalier King Charles Spaniel, and we'll have something from [Camille Saint-Saens'] Carnival of the Animals. Edward Elgar wrote a piece for his pet terrier, Mina, that sort of thing."
It is here that we put Bill on the spot: what are his favorite pet-themed classical pieces? "The first one that pops to mind is the Serenade For Strings by William Lloyd Webber, that's a really lovely piece. Mina by Edward Elgar is lovely, Morning Mood by Edvard Grieg – who also had a good-luck frog in his pocket, not a real one! Before he went on stage he would rub the frog to bring luck – not sure if there'll be any frogs listening!"
You can tune into Bill on Classic FM's Pet Sounds on Thursday 5th November from 7pm to 10pm, and Saturday 7th November from 7pm to 9pm
Get the best advice, tips and top tech for your beloved Pets
Steve writes and proofreads buying guides, news stories and advice for Pets Radar, drawing on his lifelong experience as a pet owner. Currently sharing his house with two cats and a dog, he draws on the many highs and occasional lows of pet ownership he has borne witness to in his writing. He has worked in publishing for 15 years as an editor, sub editor and writer on a range of titles, such as SciFiNow, How It Works, All About History, Real Crime and Horrorville. You can follow him on Twitter @stevewright22