Cat abandoned after 18 years because owners "didn't want cat hair anymore" enjoys new life at sanctuary
Pumpkin the cat was abandoned after 18 years but she's since been taken in by a sanctuary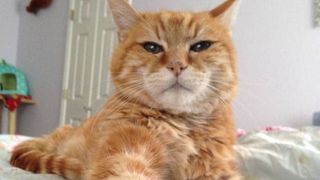 (Image credit: Reddit / u/DoctaEiffel)
It's a fact that some people don't deserve pets. We'd place in this category the people who made the decision to dump Pumpkin the cat, abandoned after 18 years in a pet shelter.
In a post that has since gathered quite a bit of pace on Reddit, user u/DoctaEiffel said, "Dumped at a shelter after 18 years because his family "didn't want cat hair anymore," now he lives in our sanctuary. Welcome, Pumpkin!"
There's a lot to unpack here. Firstly, you can rest assured that this story has a happy ending, since not only has the magnificent Pumpkin found a home, she looks very smug to have done so. Clearly her twilight years are going to be spent living her best life.
However, it does beg the question: how does someone, who has presumably owned a cat for most of their 18 years, decide that fur shedding is the deal-breaker in choosing whether or not to keep their pet?
How can someone suddenly decide to effectively dump an elderly cat? Maybe there are other circumstances that we're unaware of, but it's hard to find any real justification for this otherwise.
The Reddit users had their say. According to one, this isn't an uncommon occurrence: "It happens ALL the time. I was a volunteer at our local shelter for years. I worked with the seniors and I saw this on a frequent basis. It broke my heart."
Others simply expressed their outrage: one said, "Beats me. Must be some soulless people", while another said, "Honestly, if they were that crappy of owners, maybe Pumpkin is better off now. He's a gorgeous cat."
In the meantime, Pumpkin is clearly being taken care of in her loving new home. And ultimately that's all that really matters in this kind of situation. Hopefully Pumpkin will remain happy for years to come.
Get the best advice, tips and top tech for your beloved Pets
Steve writes and proofreads buying guides, news stories and advice for Pets Radar, drawing on his lifelong experience as a pet owner. Currently sharing his house with two cats and a dog, he draws on the many highs and occasional lows of pet ownership he has borne witness to in his writing. He has worked in publishing for 15 years as an editor, sub editor and writer on a range of titles, such as SciFiNow, How It Works, All About History, Real Crime and Horrorville. You can follow him on Twitter @stevewright22