How to find a lost cat
Here's how to find a lost cat, from social media posts to searching your property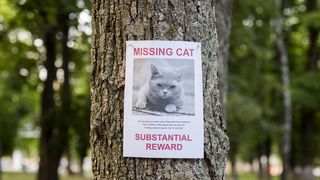 (Image credit: Getty)
The unthinkable has happened and your cat has gone missing, but there are several things you can do to help find a lost cat.
Losing a cat is a very hard thing to go through and can very easily be overwhelming, and while there is the possibility a lost cat may not return. There are ways to increase your chances of finding a lost cat, including fitting them with one of the best pet trackers. If you do find that your feline friend has gone missing, whether they're an indoor cat who somehow got out or an outdoor cat who hasn't returned, make sure to consult these steps to help streamline the process of finding your cat.
Again, this can be a very stressful situation, so consulting this guide on how to find a lost cat will help organize your thoughts and your next steps during a time when you may be rather scattered. Here's how to find a lost cat.
Check inside first
If you think your cat is missing and you didn't see them run out of the door, or know the last time you saw them was outside, first make sure your cat isn't hiding somewhere in your house. Cats (especially kittens) can get in really small spaces and sometimes get stuck there, so check any possible areas inside your house. Walk around with a flashlight and some of their best dry cat food top lure them out with.
Check outside armed with the right tools
Once you've completely searched inside your home or apartment, start checking around the exterior of your house. Head outside in comfortable clothes with a flashlight and treats, and make sure you have a picture of your cat ready to go on your phone. Check underneath decks and porches, any outdoor furniture, in bushes and any other hiding areas. According to a Daily Paws interview with Missing Animal Response Network founder Kat Albrecht, an indoor cat is most likely very close to your house. If you can't find your cat on your property, head to your neighbors' homes. Ask if they've seen anything and if you can check their property, then repeat the same thorough search you did in your yard in theirs.
Talk to anyone you see during your search to let them know to keep an eye out. Show pictures of your cat, tell them your cat's name and if they have a collar or microchip. A study done by the Missing Animal Response Network revealed that out of 477 lost cats that were found, the median distance was 39 meters for indoor cats and 300 meters away for outdoor cats. If you have an outdoor cat, make sure to search their known territory thoroughly.
Report your cat missing
Report your cat missing with your local animal control and your personal vet. Post your pet on Pawboost, which will send out alerts to local people on Facebook and via email about your lost pet. It may also be helpful to post on neighborhood apps like Nextdoor, which has helped rescues find lost cats and dogs quite often – especially in large cities like New York.
Make fliers as well (Pawboost offers a tool for that) and post them at eye level all around your neighborhood. Make sure you use clear pictures of your cat, post their name and any identifying characteristics, and give several ways to contact you.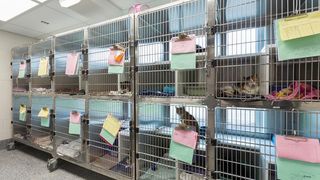 Leave food and water outside overnight
If your cat did just go out for a wander, the first thing that'll make them come home is hunger. If you can get a humane trap used to help trap ferals or injured wildlife, you'll want to put the smellitest, tastiest, best wet cat food in there along with some water. Reach out to local rescues and shelters to see if you can get a humane trap.
Check local shelters
If you have no luck the first day your cat goes missing, call local shelters and your city's Animal Control office. Make sure your cat is microchipped or wears a collar with an ID tag so it's easy for a shelter to reunite you two if it does find your cat.
Don't give up quickly
According to Best Friends Animal Society, 56% of lost cats were found within two months. Albrecht tells Best Friends that people call off their search too quickly because they assume the worst. "Use every possible search method immediately including conducting a thorough physical search, distributing fliers, and putting out humane traps," says Albrecht. "Go over the same ground multiple times and at multiple times of day." And don't discount the human factor, because cats do get picked up and taken to the shelter. They can also assimilate into a nearby cat colony, so get to know the people in the neighborhood who feed outdoor cats in case they spot a new arrival.
In conclusion
Losing a cat is a stressful and upsetting experience, but there are plenty of ways to help increase the likelihood you will be reunited with your feline friend. Remember to thoroughly check indoors and outdoors on your surrounding property and your neighbors' as well, and put up fliers and social media posts as soon as you can. The more word gets out, the more likely a passerby will recognize your cat. Don't give up, as there are ways to find a lost cat that just may help you get your cat back home.
Get the best advice, tips and top tech for your beloved Pets