A compact and clever enough tracker with a decent app, the Pawfit 2 Tracker is packed with neat features which makes it useful for both you and your pet.
Pros
+

Good location tracking

+

Health advice and tracking

+

Well appointed app

+

Alert functionality
Cons
-

Could be too big for some

-

Requires a subscription

-

Needs a mobile signal for full functionality
Why you can trust PetsRadar Our expert reviewers spend hours testing and comparing products and services so you can choose the best for you. Find out more about how we test.
The Pawfit 2 tracker is a tracking and fitness ninja all rolled into one that will make sure you not only always have tabs on your precious fur baby, but that they stay fit and healthy too!
One of the most advanced one-stop shops we've ever seen when it comes to location tracking and activity monitoring, the Pawfit 2 is the worthy winner of our best pet tracker award for 2021 and it doesn't take long to see why.
You'll be able to easily find your little mischief-maker when they wander off thanks to the GPS tracking system that lets you pull up their location on the Pawfit app. It'll also monitor the number of steps they take each day and provide other important information on their weight and activity levels.
We're especially loving the pet-friendly design that lets both dogs and large cats wear this device comfortably and the hardened ABS shell means that the Pawfit 2 can survive being dropped or chewed on. You'll find the app user-friendly too and you can manage up to four pets on it, so it's a great choice if you have multiple furkids.
Running with a SIM card alongside a monthly subscription fee, the Pawfit 2 tracker is an affordable, intelligent, and energy-efficient gadget that's well worth considering. Let's take a closer look and see if it's truly deserving of all the hype...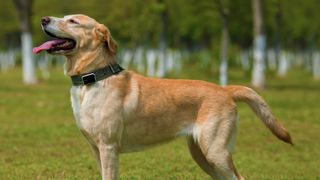 Pawfit 2: Features
There's nothing new about the idea of GPS trackers, but this has built on the successes of those that have gone before and made it more suitable for pets. The Pawfit 2 click-fits into a collar mount, allowing it to be easily removed for charging using the easy-to-use custom charging dock. It's also waterproof up to a depth of three meters, so you won't need to worry when you are going for riverside walks and your pet fancies a bit of a splash around.
A lot of consideration has been paid to safety: you'll get alerts when the tracker is removed from (or has fallen off of) the collar mount, as well as geofencing facilities in the app which can tell you if your dog strays beyond a certain boundary. It'll also play an audio alert if someone finds your dog, with all the information they need to get your pet returned to you, and you can trigger an audio tone if your dog starts heading for the hills, something which may be enough to distract them from whatever quarry they're chasing.
Points to hardware design, too: while this is marginally more cumbersome than Tractive's tracker (particularly noticeable if you're using it to track a larger cat, something Pawfit suggests) it's light enough.
If you're in an area with cellular reception you'll get live updates through the app, which also gives you access to a host of activity monitoring metrics and all the information you need to make sense of them. It's worth noting, though, that the Pawfit 2 does require a subscription to get running. Connecting to mobile networks isn't free. Thankfully it's not too expensive, and there's a discount if you pay for a whole year at a time, compared to pay-monthly costs.
Pawfit 2: User reviews
Users of the Pawfit 2 seem, on the whole, overwhelmingly positive about it, and we can see why. The location tracking, in particular, appears to work very well, with some users applauding its ability to switch to a battery-sapping extra detail mode for ten minutes if your dog heads for the trees, and most people being very forgiving of the fact that it basically doesn't work to track your pet at all if you're in the countryside with no signal. You'll get the data later on, but it's only really suitable for finding an errant dog when the tracker can communicate with a mast.
Others have found the geofencing functionality gave them a lot of peace of mind, particularly with skittish dogs and rescues – it gives you an automatic alert should your pet stray from a particular area, which is perfect if you're leaving them in the garden unattended. The alarm function, too, is something of an unexpected highlight, startling dogs out of potentially unpleasant or undesirable activities; one user commented "It works a treat, and it's not too loud as its right next to his ear – our dog has an uncanny interest in consuming other animals' poo!"
Pawfit states 2-5 days battery life, and that really does seem to depend on the amount of use the Pawfit 2 gets on a walk. Some users manage two and a half days, some longer if they're only using it for walks and leaving it switched off around the house, but some with more energetic dogs don't quite reach those levels. We'd guess that a lack of signal might lower its longevity further; searching for a signal can be more demanding than maintaining one.
A few users have had issues with the twist-click mount, losing the device after it was dislodged in the wilds, and a very small number have had tracking issues – as it uses GPS, this shouldn't be a huge issue, but its ability to reach satellites could be affected if you're walking in a built up area.
Should you buy the Pawfit 2?
There's little doubt that the Pawfit 2 enhances the safety and fitness of every dog and, indeed, many larger cats. It's compact and light enough so as not to be too obtrusive, and it's packed with neat features which make it useful both for you and for anyone that might find your dog too.
A vast number of owners have found themselves very attached to using the Pawfit 2, and don't want to go back – that's something of a ringing endorsement. There are cheaper activity trackers (like the PitPat) which don't track their location and which may be better if you're only on a fitness kick – but this is certainly a top option if you're looking for location tracking too.
Alex is a freelance writer, editor and sub editor specialising in entertainment and technology; he is a father of two, and owned by three increasingly grumpy cats. Somehow he has been doing this for 24 years, and it's still fun. He specialises in technology-related subjects, with a focus on smart home and gadgets and is a regular contributor to T3.com, TechRadar, PC Gamer, and more.