Cat café finds new owners for almost all its cat residents on its opening day
Purringtons cat cafe runs out of cats as they find homes for 10 out of 11 kitties in 24 hours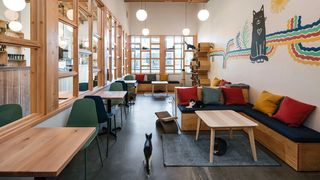 (Image credit: Purringtons Cat Lounge)
A Northeast Portland cat cafe where punters can pay to sit and read a book surrounded by cats up for adoption has had a very successful reopening. Closed since March 2020 due to the Covid pandemic, Purringtons reopened this week and managed to find a home for 90 percent of its rescue kitties on its first day!
As co-owner Garrett Simpson explained to WWeek, "We had a successful reopening. Ten of our 11 cats were put on hold for adoption." And although this is an incredible feat, it's nothing new to Portland's only cat café. When it first opened back in October 2019, Purringtons managed to find adopters for 123 of its cat residents within six months.
Garrett asserts it's a nice problem to have, and his connection with CAT – the Cat Adoption Team, an adoption-guarantee shelter based in Sherwood – where he was previously a volunteer, means they usually have no problems in finding more cat guests for the café.
If they do run out of cats Garret says, "We'll pivot as best we can. In the past, we've decreased the number of guests in the cat lounge in order to provide a good cat-to-guest ratio."
They used the time they had closed to renovate the premises and make it as covid-safe as possible. Visitors now have to book a time slot to spend time with the fur babies, and the menu has been reduced to light snacks and beverages to decrease the time when customers will go maskless. Simpson explains, "Reopening at a time when COVID cases are rising is not ideal, but we feel that we have taken the necessary precautions to help ensure the safety of our guests and staff."
You can see the cute cats already adopted on their Instagram page and if you are interested in providing a home for a rescue kitty, or just want to spend your time relaxing surrounded by furry friends while having a tea or a cold beer, we are happy to give Purrington's the PetsRadar seal of approval!
Get the best advice, tips and top tech for your beloved Pets
Jamie Middleton is a freelance editor and writer who has been editing and creating content for magazines and websites for over 20 years. As well as writing about the pets he loves, he has helped create websites about tech and innovation like TechRadar.com, Innovate UK and TechSPARK, written programmes for music festivals, books on inventions and architecture, TV listings magazines, and edited publications about cars such as Lexus, Toyota and Jaguar. In his spare time he writes fiction books and poetry - or at least he does when he is permitted to by his cat Pirate, who enjoys the warmth of laptops too much to allow being creative to get in the way.