70 cats rescued from pet hoarder's home
Volunteers were left stunned as 70 cats were rescued from the mobile home of an owner who estimated that they only had 20 felines living with them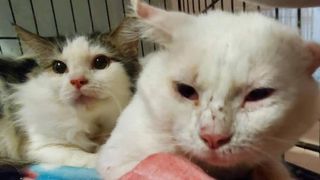 (Image credit: Facebook / @NinthLifeRescueCenter)
A Pennsylvania animal charity believes that it will cost thousands of dollars to rehome the 70 cats rescued from a dire hoarding situation in one of their biggest ever rescues.
Jen Johnson, the president of the Ninth Life Rescue Center, has joined forces with volunteers from the charity As They Come Animal Rescue in a bid to ensure that all of the cats and kittens are rehabilitated and adopted as soon as possible.
"The four of us pulled out the 70 cats in two hours", Jen explained.
The majority of the felines that were discovered were suffering from severe upper-respiratory infections and also require dental work. All 20 kittens were found to have eye issues and at least four of the adult cats will need to have an eye removed as a result of the conditions they were living in.
The entire rescue began when the owner voluntarily reached out for help, which is unusual for a pet hoarder to do. When the small team arrived to remove the animals, they were shocked by the situation they found before them.
"You moved a dresser and there was 10 kittens under it. You moved a bed, there was 15 cats scattering. They were in every single room… cabinets, behind the refrigerator", Jen said.
"They [the owner] did not know how overwhelmed they were. Not a single animal in the house was spayed or neutered or had ever seen a vet."
Sadly, the conditions the felines were found in could only be described by Jen as filthy and pungent since cat feces could be seen scattered all over the property.
Despite this being an unusual situation in which the pet owner requested the help, this doesn't mean that any future animal cruelty incidents will be taken lightly.
Jen continued to say that this rescue is their fresh start: "This is a one-shot deal, and they [the owners] need to take the opportunity to move on with their lives and get their house cleaned up".
Get the best advice, tips and top tech for your beloved Pets
Chloe is a freelance writer, editor, and proofreader, who has more than ten years' experience in creating animal-focussed content. From National Geographic to Animal Planet, Chloe's passion for creating fact-filled features all about wildlife and the environment is evident. But it's not just wild animals that Chloe's fascinated by. Having written more than 75 articles for PetsRadar - and having her very own four-legged friend by her side - it's no wonder that her love of dogs (and, of course, cats) has grown exponentially.
Her website, www.chloemaywrites.com, and social media pages - @ChloeMayWrites on Instagram, Facebook, and Twitter - showcase her knowledge through daily facts and trivia tidbits. For example, did you know that snails have teeth?!