Rescue cat Jinx is charming the Internet with her unusually wide eyes
Meet Jinx the cat, a rescue feline with more than her fair share of special quirks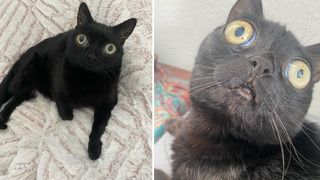 (Image credit: Instagram / @bigfootjinx)
Our feline friends are well-known for having some of the most unique eyes in the animal kingdom but you've probably never seen a moggy who looks quite like Jinx the cat.
This fabulous feline is most famous for her wide saucer-like eyes that has won her an army of fans across the Internet. Also known as @bigfootjinx to her followers across social media, this black rescue cat also has a few extra unique traits that makes her such a special star.
Like her name suggests, Jinx is frequently described as having the "wonkiest legs in town" which leads many of her followers to ask why she looks the way she does.
Fortunately, Jinx's unique traits are not as a result of an accident. As detailed by her owner, Mia Ibanez, in a Twitter post, Jinx's appearance is as a result of birth defects which initially caused some alarm.
After being found meowing behind Ibanez' house in a big field in October 2018 at just 3 weeks old, Ibanez recently explained to TikTok, that she did not immediately notice Jinx's unusually wide eyes.
"I didn't really notice her eyes were that big," Ibanez said. "Until I did and then I was like... Oh. And then as she grew we noticed that her feet were weird and floppy."
After bringing her in from the cold, and feeding and warming the tiny kitten up, Ibanez took Jinx to see her local vet a few times who explained the unique moggy was born with the unusual quirks, including an underbite, small mouth, distinctive nose and wobbly walking.
"Is she clumsy?" Ibanez answered in a recent Twitter Q&A. "Yes! she didn't learn how to land on her feet until she was about 2, she used to just land on her side whenever she jumped. She also loves to knock everything over and spill drinks on my carpet!"
Reassuring her fans, Ibanez says that her celebrity cat is not in any pain as a result of her appearance but is perfectly healthy. In fact, this gorgeous feline "is a real sweetheart" says her owner, as documented over on her social channels, including Instagram where her first ever post was created.
Alongside an adorable picture of the tiny kitten, Ibanez wrote: "Hi, I'm Jinx. I am 4 weeks old and I have really big eyes! I was found 3 days ago in a field and this is an account to document my life" - and the rest is history.
Since then, Jinx has gone on to become a huge star online, with over 50,000 followers on Instagram, plus her very own online store.
So, has all the fame and attention gone to this marvellous moggy's head?
"She can be a little temperamental but she's a sweet cat," Ibanez insists.
Get the best advice, tips and top tech for your beloved Pets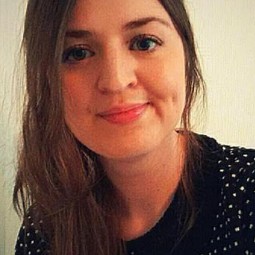 Ashleigh is Digital Editor on PetsRadar. With over 8 years of experience in print and digital media, she has acted as an editorial lead on a variety of projects, with animal themes a keen interest. As an avid animal lover, you can often find Ashleigh checking out the newest trends in animal care or looking at cute cat videos on TikTok.