Chewy launches cozy 'Coastal Grandmother' collection for pets, inspired by TikTok trend
Let your pet live its best life this A/W with Chewy's new Coastal Grandmother inspired collection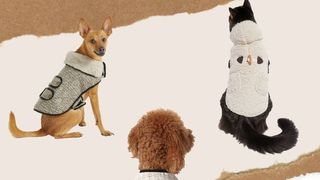 (Image credit: Chewy)
If you hadn't heard, Coastal Grandmother is the latest fashion trend to have swept social media. The aesthetic, inspired by Diane Keaton in Something's Gotta Give (but honestly, it's pretty representative of the wonderful Oscar winning actress in pretty much any of her movies), is rooted in minimalism and the simplicity of living beside the sea.
Blending earthy, natural tones and crisp, clean coastal colours with loose-fitting silhouettes, Coastal Grandmothers can be seen in white linen pants, beige sweaters, white loose-fitted shirts and rattan sun hats.
As for their homes, it's all about that all-American traditional yet clean Martha Stewart look. Lots of white, wooden accents, wicker, shells and rustic materials.
Nobody explains it better than the lady who coined the term herself, TikToker Lex Nicoleta:
According to Fashion stylist Gabrielle Porcaro the trend developed after thanks to Covid-19.
"I think the urge to stay comfortable post-pandemic is what made the relaxed style so popular," says Porcaro. "It's the epitome of easy, chic yet comfortable."
The chic yet comfortable nature-inspired trend doesn't stop with fashion-conscious women though, it's now available for your beloved pets to embrace!
Does your Chihuahua peer out of your patio doors, longing looking through the raindrops imagining themselves cavorting on the beach or vacationing in the Hamptons?
Or perhaps your Maine Coon sits on the windowsill of your seaside cottage, looking effortlessly chic? Then let them live their best life and embrace the Coastal Granny aesthetic themselves.
Here are a few of our favorite picks: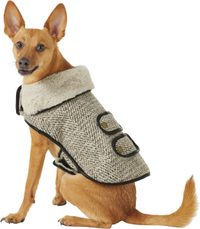 Frisco Manhattan Tweed Dog & Cat Coat, $21.99
Keep pets warm this winter with this tweet coat, which also boasts a neutral hue that'll match any and all of their accessories.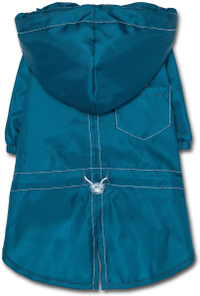 Touchdog Split-Vent Designer Waterproof Dog & Cat Raincoat, $31.68
Raincoats like this one perfectly fit the coastal grandmother trend, Porcaro says, thanks to its crisp blue hue and design. Plus, functionally, it boasts a waterproof shell complete with an adorable hood.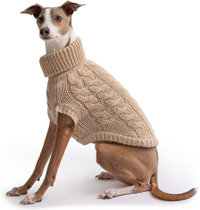 GF Pet Chalet Dog Sweater, $23.74
This turtleneck cable-knit sweater screams "fall." Not only does its texture align with the coastal grandmother vibe, but it's also available in beige, perfectly fitting the aesthetic.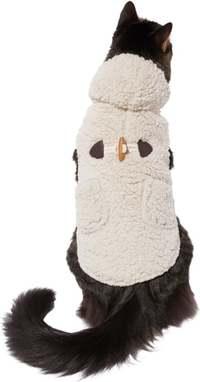 Frisco Soft Sherpa Dog & Cat Coat, Oatmeal, $18.99
With a sherpa coat this cozy, you'll want to cuddle up with your pet all winter long. Available in one color, Oatmeal, this shade is very appropriate for the coastal grandmother trend.
Chewy has developed their very own look book so that your fashion-conscious pet can look just as chic as you do, while their accessories and bedding will fit in effortlessly with your Coastal Grandmother inspired home.
With Tweed jackets and soft colored wool-look cable knit sweaters for dogs, a super soft cream coloured coat, wicker basket beds, and even white painted wooden elevated dog bowls with storage, it's easy to transition into winter while maintaining this clean and chic aesthetic.
Check out the full range here and holiday in the Hamptons all year round!
Get the best advice, tips and top tech for your beloved Pets