Dana Perino's dog Jasper has sadly passed away
Fox's The Five co-host shares her grief as Jasper, her 9-year-old Hungarian Vizsla and TV star, dies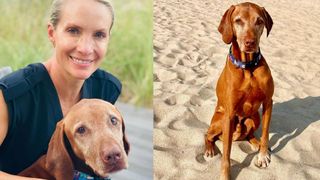 (Image credit: Instagram / @DanaPerino)
Former White House Press Secretary and TV star Dana Perino's dog Jasper has sadly passed away at the age of nine. Fondly known as "America's Dog", the Hungarian Vizler, who became famous for his appearances with his mom on the Fox News Channel, died on Saturday 4 September 2021.
Dana tweeted the sad news and posted about it on Instagram after it happened, breaking the hearts of those who knew and loved him from his regular mentions and on-camera antics.
She wrote, "It is with broken hearts that Peter and I have to let you know that Jasper, America's Dog, died today. A fast-spreading cancer caused him to leave us sooner than we'd ever hoped. We got to send him off - talking about all the fishing he can do in Heaven.

"My apologies if this post feels impersonal - so many of you have helped us raise Jasper to become the wonderful, hilarious, legend that he was. It would be impossible to reach all of you as I'd like to - truly a dog has never been so loved and supported."
The Instagram post has already been liked over 50,000 and the comments are full of an outpouring of grief and commiserations from fans of his guest spots on The Five.

The Five is a regular programme on the Fox News Channel where five Fox News personalities discuss current issues in a roundtable discussion. Jasper was regularly talked about on the show and Dana would share pictures of him and his exploits with the viewers. Specially created photographs of Jasper would accompany the news of the day, which had Jasper winning over so many people's hearts.
#IllTellYouWhat Coming to a congressional district near you. @DanaPerino @ChrisStirewalt pic.twitter.com/mbVPWNZWAYMarch 15, 2018
He also had some real-life appearances. When he was on the show he sported a smart necktie and would often look soulfully down the camera. He quickly became a celebrity, constantly being recognised on the street, and even had a book penned about him by Dana called "Let Me Tell You about Jasper… How My Best Friend Became America's Dog".
Dana wrote a very personal and emotional blog about her immediate reaction to Jasper's passing called "Goodbye Jasper' which features on the Fox news website. In it she writes about coming to terms with the fact Jasper isn't in her life any more and the effect Jasper had on her viewing public. She wrote, "I've heard from friends and strangers who said they'd never been dog people until Jasper. Some became dog owners because they wanted to experience that special bond as well."
She adds, "Others had just followed him because he was nicknamed America's Dog… not because we thought he was better than any other dog, but because I said I'd be happy to share Jasper with everyone. I'd do all the work, and they could claim him as one of their own."
Jasper had grown up with the show, as Dana explains: "Jasper was first on "The Five" in June 2012, a tiny puppy that I could easily hold in my arms. I think he slept through that first appearance, but a star was born."
"Over the nine years of his life, Jasper's love spread far and wide. And like a pebble tossed into Twilight Lake in New Jersey, his favorite fishing spot, it keeps rippling."
Get the best advice, tips and top tech for your beloved Pets
Jamie Middleton is a freelance editor and writer who has been editing and creating content for magazines and websites for over 20 years. As well as writing about the pets he loves, he has helped create websites about tech and innovation like TechRadar.com, Innovate UK and TechSPARK, written programmes for music festivals, books on inventions and architecture, TV listings magazines, and edited publications about cars such as Lexus, Toyota and Jaguar. In his spare time he writes fiction books and poetry - or at least he does when he is permitted to by his cat Pirate, who enjoys the warmth of laptops too much to allow being creative to get in the way.