Meet Dana Perino's new dog: Percy Vizsla
Dana Perino's new dog Percy Vizsla was unveiled by the former White House Secretary and TV host on air and across social media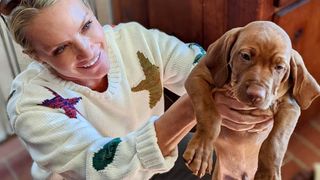 (Image credit: Dana Perino / Fox News)
Following the sad news that her dog Jasper died after fast-spreading cancer, former White House Secretary and TV host Dana Perino has revealed a new dog in her life.
Writing on her official Twitter page @DanaPerino the beloved co-host of The Five on the Fox News Channel first unveiled a picture of the new addition to her household on November 8 2021.
The caption "America, meet Percy Vizsla!" was accompanied by a first look at the adorable 7-week-old new puppy alongside a blog post on the Fox News website where she details extra information about her new dog and thanks the public for the kindness shown after Jasper's death.
"Who's ready for some good news?" the blog post starts. "Well, I have some to share. Ladies and gentlemen, meet Percy Vizsla. He was born in Hillsboro, Ohio on September 22, 2021"
Revealing the reasoning behind the name, Perino divulged that it was in fact a tale from her husband Peter's life and their love of English names that inspired the choice.
"Peter has only ever known one Percy in his life, when he was 18 working in a pub in northern England."
"Every afternoon and evening, a World War I veteran would come in and brush the snooker table (UK's version of pool), preparing it for the next crowd that would filter into the bar."
"He was given a pint of beer each time, and he'd sit and regale all the guys with tales of growing up in the late 1800s in England, and a little about the war — never the difficult and terrible times, but the camaraderie amongst the soldiers. Peter loved listening to him."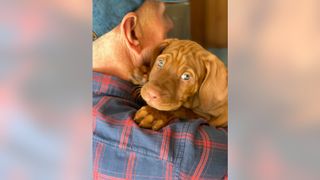 And much like his namesake, it turns out that Percy is just as warm and loveable.
"He's remarkably good and smart. And quite the heart mender, too," the star remarked.
On September 4 2021, Perino revealed that her dog Jasper, also a Vizsla, had sadly died at the age of 9. Fondly nicknamed as "America's Dog", Jasper was regularly talked about on the The Five TV show and Dana would frequently share pictures of him and his exploits with the viewers.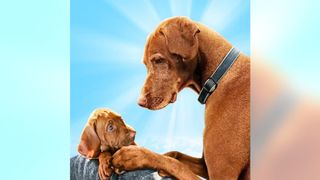 Perino reassured her fans that although Jasper was gone he was very much not forgotten.
"The lead up to bringing Percy home was a very hard secret to keep. Getting a puppy is so exciting. But it was also hard to talk about it - for fear that if I did, that would diminish Jasper's memory. But we knew that Jasper would want us to be joyous - and for us, Vizslas make our house our home."
The star followed up her first Twitter post with a second, showcasing even more adorable snaps of Percy Vizsla.
As Jasper passes the torch to Percy, we are so excited for you to meet him. Warning: cuteness overload ahead! pic.twitter.com/KGFHKU43cwNovember 8, 2021
"As Jasper passes the torch to Percy, we are so excited for you to meet him. Warning: cuteness overload ahead!" she wrote, suggesting we're yet to see even more of this cutie in the future!
Get the best advice, tips and top tech for your beloved Pets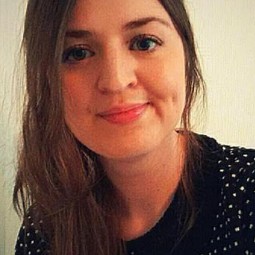 Ashleigh is Digital Editor on PetsRadar. With over 8 years of experience in print and digital media, she has acted as an editorial lead on a variety of projects, with animal themes a keen interest. As an avid animal lover, you can often find Ashleigh checking out the newest trends in animal care or looking at cute cat videos on TikTok.