Watch Doberman's protective reaction to human's toy pup prank
When a tiny toy appeared in front of Tessa, she quickly sprung into action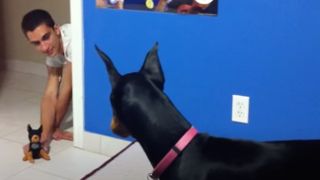 (Image credit: TessatheDobie Dobie / YouTube)
One minute you're happily playing with a ball, the next a pesky human starts playing a prank.
Such is the life of a Doberman called Tessa who has been videoed reacting to a small stuffed toy being controlled by one of his pet parents.
In the video, which has been widely watched and shared on YouTube, Tessa is shown quietly getting her teeth around the ball. But then his human dad slowly introduces a tiny toy Doberman, edging it around the open door and Tessa soon spots it.
Incessantly barking at the intruder, Tessa is startled when the toy seems to bark back. This is, of course, the human making a dog-like noise but Tessa can't figure this out.
The video continues with the toy dog taking control of the ball and Tessa still trying to work out what it going on. Even when the toy is pushed into the room, Tessa is very wary and only seems to become more brave – to some extent at least – when the pet dad enters the room as well.
Soon after, the toy is placed on Tessa's bed and it's only then that the Doberman gets close. She sniffs at the toy and eventually takes it between her teeth to place it back on the floor. But there's still a little more time to play before the video closes out.
As expected, the video, posted to the account TessatheDobie Dobie, has gone down well online, having been watched 47 million times and liked by 220,000 viewers.
"I love how the stuffed toy just pops out of nowhere and I love the fake bark," says one of more than 12,000 commenters.
"Her reaction is why we love Dobermans," writes another, and it's hard not to agree when you take a look at 10 surprising Doberman facts.
Get the best advice, tips and top tech for your beloved Pets
David Crookes has been a journalist for more than 20 years and he has written for a host of magazines, newspapers, websites and books including World of Animals, BBC Earth, Dogs and Canines, Gadget and The Independent. Born in England, he lives in a household with two cats but he's also keenly interested in the differences between the huge number of dog breeds — in fact, you can read many of his breed guides here on PetsRadar. With a lifelong passion for technology, too, he's always on the lookout for useful devices that will allow people to spend more time with their pets.