Dog evades capture by owner in hilarious viral video
This cheeky dog evades capture by running rings around his owner in a comical clip that will make you laugh out loud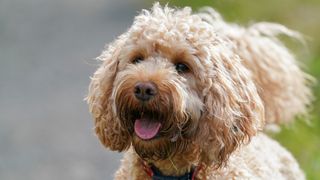 (Image credit: Getty Images)
We apologize for interrupting your work week, but we promise that watching as this dog evades capture is going to be more than worth it. 
In comical scenes captured by TikToker @ScullyGlasses, Miso the dog can be seen running round her garden furniture as the pooch's owner Mikey attempts to capture him and take him home. 
Already viewed more than five million times, the hilarious clip shows Mikey making continual attempts to grab Miso, a Cockapoo/Golden Doodle mix, as the little dog taunts him by running up to Mikey and then quickly changing directions before he has a chance to grab him. 
"My neighbor gravely underestimated his dog Miso's desire to go inside," says ScullyGlasses adding that Mikey was yelling at Miso throughout the comical game of cat-and-mouse. "He's just saying 'Miso, No! Come here!'
TikTokers were quick to chime in their thoughts with @user5065430394495 saying: "when you know your dog isn't going to come to you but you have to make people think you're at least trying…"
@finnyfarm added "ZOOMIE ZOOMIE" while @Sierra jumped in with "that dog is going to have the BEST nap." No matter what they had to say, this is one video where the laughing emoji was in full force with many people saying the video had been the bright spot in their entire day. 
So, did Mikey eventually capture Miso and get him to come home to his own backyard? At the end of the clip the man who clearly has the patience of a saint can be seen walking off and ScullyGlasses confirmed that Miso was indeed caught and carted off home.
"At the end he finally caught him by tricking him into thinking he was going back. He felt so bad. He's such a sweet neighbor. We were dying laughing though."
Kathryn is a freelance writer with a passion for creating health and wellness, travel and wildlife content. Originally from New Zealand, her nomadic lifestyle has her currently fur baby-less. She scratches her pet parent itch by stealing frequent cuddles with any neighbourhood cat kind enough to indulge her.
Get the best advice, tips and top tech for your beloved Pets
Thank you for signing up to Petsradar. You will receive a verification email shortly.
There was a problem. Please refresh the page and try again.