Dog steals ball during Irish cricket match and brings game to a halt
Women's All-Ireland T20 Cup semi-final paused mid-play after furry fan flies onto the field and swipes the ball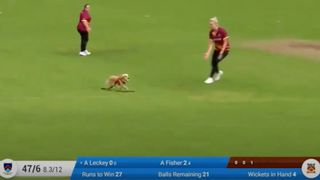 (Image credit: Guardian/YouTube)
'Dog steals ball during Irish cricket match' probably isn't the headline you were expecting to read as another week gets underway, but if you think you're shocked, spare a thought for the women playing their hearts out in the All-Ireland T20 Cup semi-final on Saturday. 
In a 'you've got to see it to believe it' moment, the exciting match between Bready and the Civil Service North of Ireland (CSNI) was stopped mid-play after a rather frenetic furry fan sprinted onto the field and took off with the ball. 
The now-viral video clip, which was tweeted by Ireland Women's Cricket and has already wracked up over 3 million views, shows CSNI attempting to field a strong hit from a Bready batswoman when a dog who had escaped its owner runs across the field with his leash trailing behind him and grabs the ball. 
"Oh! The dog has the ball!" a commentator can be heard saying before he and his colleague erupt into the laughter.
Several of the players attempt to run after him before a young man who appears to be the dog's owner sprints onto the field and gives chase. The dog eventually runs into the arms of one of the Bready players who is crouched down near the wicket.
"There we go, I think we've retrieved the ball," one of the commentators quips before adding "it may need a clean."
As yet, there's no word on the name of this hardcore mystery cricket fan, although delighted viewers have already nicknamed him 'Spaniel Vettori', a nod to New Zealand former cricketer Daniel Vettori who was the first left-arm spinner to take 300+ wickets. 
Kathryn is a freelance writer with a passion for creating health and wellness, travel and wildlife content. Originally from New Zealand, her nomadic lifestyle has her currently fur baby-less. She scratches her pet parent itch by stealing frequent cuddles with any neighbourhood cat kind enough to indulge her.
Get the best advice, tips and top tech for your beloved Pets
Thank you for signing up to Petsradar. You will receive a verification email shortly.
There was a problem. Please refresh the page and try again.