Rare albino dachshund becomes social media star
Meet Duke – the albino dachshund with special needs who went from struggling to find a home to being one of the most popular pooches on Instagram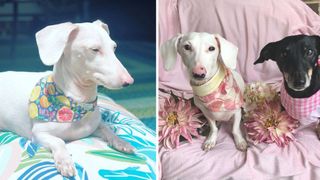 (Image credit: Instagram / @duke_the.albino.dachshund)
This beautiful albino dachshund is finally living his best life despite being super sensitive to sunlight, being partially blind and deaf, and living with a condition that means his heart is too big.
In 2013, 38-year-old Mercedes Andrade from Texas, US, adopted Duke – and she wasn't even looking to take home a four-legged friend!
"Among the playing puppies, there he was, the smallest of them – a white, blue-eyed, pink-nosed cutie", Mercedes recalls.
She'd only planned on paying the pups a visit but knew she couldn't leave him behind.
"He chose us to be his family, not the other way around. He knew that he would be in a safe and happy home."
And now, Duke has been enjoying life ever since.
Under the Instagram handle @duke_the.albino.dachshund, Mercedes shares pictures of Duke in various outfits, including some snazzy shades for when he goes outside.
Showered with love and affection – both in real life and online – it sounds like Duke is used to living the popular life.
"I normally get a lot of messages on his Instagram saying that he's absolutely beautiful and when I read his messages to him, it's like he knows how special he really is", Mercedes explained.
But being Duke isn't all that easy.
The all-white pooch must wear sunscreen and a hat when venturing out into the sunshine, to ensure that his skin doesn't burn.
Nevertheless, Duke still loves to play and run around like any other dog, and looks to older sister Dior the dachshund should he ever need any assistance.
Get the best advice, tips and top tech for your beloved Pets
Chloe is a freelance writer, editor, and proofreader, who has more than ten years' experience in creating animal-focussed content. From National Geographic to Animal Planet, Chloe's passion for creating fact-filled features all about wildlife and the environment is evident. But it's not just wild animals that Chloe's fascinated by. Having written more than 75 articles for PetsRadar - and having her very own four-legged friend by her side - it's no wonder that her love of dogs (and, of course, cats) has grown exponentially.
Her website, www.chloemaywrites.com, and social media pages - @ChloeMayWrites on Instagram, Facebook, and Twitter - showcase her knowledge through daily facts and trivia tidbits. For example, did you know that snails have teeth?!