Clever cat tricks dog into crate and proves just how crafty kitties can be
Tricking his owner's canine into their crate in order to soak up all the attention shows that this is one clever cat!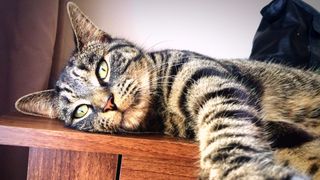 (Image credit: Getty Images)
Watching as this clever cat tricks dog into crate is going to get your weekend off to a hilarious start and we're not at all surprised that this TikTok video has gone viral.
Whilst both dog and cat owners will argue that their type of pet is the most loyal, cats also have the reputation of being fiercely independent and will do anything they please…no matter who they have to trick or manipulate to get it.
And as this crafty tabby cat named Milo shows, he's more than happy to outsmart the family dog as a way of getting more quality time with his owner.
The clip, which has so far been viewed a whopping 3.7 million times, shows how Milo likes to take his crafty ways to a whole new level when he's decided that he's had enough of the family dog, Beckham.
It shows Milo sitting in Beckham's crate and, before long, the Golden Retriever can be seen venturing in to investigate.
Unfortunately for Beckham, that's when Milo decides to make a quick exit and, once outside, he waits to make sure the pup doesn't try to leave.
Once satisfied that the pooch will stay put, the crafty kitty pushes the crate door shut with his nose.
The pair's owner, Erika, explains in the video caption that Beckham doesn't realize that he can get out, thinking that he's trapped because the door's partially closed.
The end of the video shows Milo casually walking away towards Erika for lots of love and attention.
Fear not dog lovers, Erika reassured her 1.6 million TikTok followers - over on Milo's page mrmilothechonk - that they get Beckham out straight away whenever Milo decides to do this. Phew, because otherwise we fear that poor little Beckham would be spending most of his days locked away!
Get the best advice, tips and top tech for your beloved Pets
Chloe is a freelance writer, editor, and proofreader, who has more than ten years' experience in creating animal-focussed content. From National Geographic to Animal Planet, Chloe's passion for creating fact-filled features all about wildlife and the environment is evident. But it's not just wild animals that Chloe's fascinated by. Having written more than 75 articles for PetsRadar - and having her very own four-legged friend by her side - it's no wonder that her love of dogs (and, of course, cats) has grown exponentially.
Her website, www.chloemaywrites.com, and social media pages - @ChloeMayWrites on Instagram, Facebook, and Twitter - showcase her knowledge through daily facts and trivia tidbits. For example, did you know that snails have teeth?!