Dog makes friends with fish in adorable TikTok videos
Boxer dog's cute relationship with Koi carp garners over six million views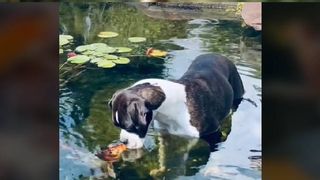 (Image credit: TikTok / @thekaregiver)
Two TikTok videos showing a Boxer dog called Nellie playing with her fish friends have accumulated over 6 million views between them. And we're not surprised, it's genuinely a heart-warming moment.
Owner Karen Vick (@thekaregiver) filmed the dog gently getting in the water to play with the ornamental Koi carp swimming around the pond in her back yard. You can hear Karen giving the dog permission, saying "Now do you want to get in with your friends? Go ahead, you can get in."
Nellie doesn't need any more encouragement, and the fish seem to be pleased to see her, swimming around her feet as she tentatively joins them in the water. Nellie shows the fish a lot of respect as she slowly gets in and it is this caring nature which has won over so many viewers.
TikTok users went straight to the comments section to say how impressed they were with Nellie's behavior and how the video had made their day.
@shortcake commented "Love how gentle your dog is. My Husky would have dove straight to eat all the fish."
@Godempress adds "She so very careful to make sure she doesn't hurt any fish. Watching her step so carefully. God bless her."
@ur_Mom had an extra reason to celebrate the video: "it's my birthday today and this was the absolute best thing I could've seen today. Koi fish and dogs are my two favorite things :))"
@bgg.Lorena101 meanwhile was equally impressed by how unfazed the fish were with Nellie joining them in the pond: "The fish are excited for her to get in - they don't even swim away!!"
Nellie's relationship with the Koi carp seems to be really affectionate, as can be seen in a second video where she dishes out kisses to any fish that wants one:
Here, the cute dog is in her element seeming to greet the carp one by one and giving them a quick smooch. 13.7K TikTok users commented to say how much they loved the fish-doggy affection and how surprised and uplifted they were by their friendship.
@Witherspringsummerfall commented, "omg I've never seen this, and my heart is melting right now!!❤❤🌹🌹"
@stein.pom added "He was like, "You get a kiss, you get a kiss, EVERYONE gets a kiss!!!" 🥰😂😘"
With @windsobeyedhim jokingly saying "And they called it puppy looovvve. 💋"
You can keep up with Nellie the boxer's further exploits on TikTok here: @thekaregiver. Here's hoping we'll see more dog-fish friend videos soon!
Get the best advice, tips and top tech for your beloved Pets
Jamie Middleton is a freelance editor and writer who has been editing and creating content for magazines and websites for over 20 years. As well as writing about the pets he loves, he has helped create websites about tech and innovation like TechRadar.com, Innovate UK and TechSPARK, written programmes for music festivals, books on inventions and architecture, TV listings magazines, and edited publications about cars such as Lexus, Toyota and Jaguar. In his spare time he writes fiction books and poetry - or at least he does when he is permitted to by his cat Pirate, who enjoys the warmth of laptops too much to allow being creative to get in the way.