Dog behaviorist reveals his top dog safety tip for 4th July
Dog safety is on every pet parent's mind as the holiday weekend approaches, read these tips from a canine behavorist and make sure your dog stays happy and healthy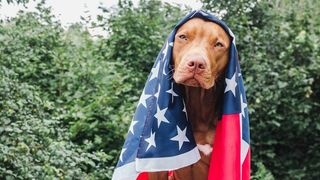 (Image credit: Getty)
Fireworks will soon be filling the sky as we get set to celebrate the fourth of July, but as much as we love those colorful displays, dog safety is an issue that concerns a lot of pet parents over holiday weekends.
The loud sounds can trigger stress and anxiety in a lot of dogs, which is why canine behaviorist Brad Bevill is offering plenty of guidance to pet parents on how you can prepare your pooch for noise.
"Fireworks are not something that dogs are used to. They don't know what it is," he explains. "More dogs get lost on the fourth of July than any other day of the year."
Panting, barking, dilated pupils, pacing and whining, are all signs of anxiety in dogs, and Bevill believes a lot of the stress is preventable if we spend more time preparing our pups for holiday weekends.
One of the things Bevill advises is exposing your dog to common loud noises year-round but at a lower volume. "Fireworks, gunshots, baby noises, dogs barking, vacuum cleaner any noise you can think of will help them cope when holidays come around," he says.
But with the fourth of July almost here, what should you do if you haven't prepared your pooch? Well, thankfully, plenty of exercise on the day will help.
Bevill suggests wearing your dog out physically and mentally by playing with a few of the best dog toys or indulging in some great indoor games for dogs, so they're calmer at night. "Drain the energy first, put them into a rest state if you want them to rest," he explains.
It's also important that you never leave your dog in the backyard or take them with you to a fireworks display. Instead, leave them in a calming space at home with the windows closed and some white noise playing.
For dogs that are especially high in anxiety, Fort Worth veterinarian Dr. Shawn McCorkle says medication may be the right choice. "It can be a game-changer for a dog that has severe firework anxiety," he says.
Whatever you decide to do, making sure your dog is microchipped or fitted with one of the best pet trackers can help make sure your precious pooch is returned to you should they run away.
"It can be a matter of life or death if the pet gets away there's no way to get them back to you, the microchip can be a lifesaver," McCorkle says.
Kathryn is a freelance writer with a passion for creating health and wellness, travel and wildlife content. Originally from New Zealand, her nomadic lifestyle has her currently fur baby-less. She scratches her pet parent itch by stealing frequent cuddles with any neighbourhood cat kind enough to indulge her.
Get the best advice, tips and top tech for your beloved Pets
Thank you for signing up to Petsradar. You will receive a verification email shortly.
There was a problem. Please refresh the page and try again.