Excited pooch can't wait to run on his Dog Trotter treadmill, and it's adorable
Clip of excited pup running on his Dog Trotter treadmill goes viral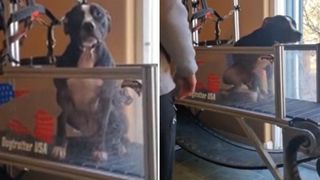 (Image credit: Reddit / @dysstatic)
It's not very often we see our canine companions running hard on the treadmill, but this pooch seems to love nothing more. A Reddit clip posted by user @Dysstatic captioned, 'This pup can't wait to use his treadmill', has delighted netizens around the world. It shows a keen pooch excitedly standing by his Dog Trotter treadmill before jumping on it.
We can hear his owner asking, "do you want to run or something?", as the dog responds with screams of delight as he waits to be set up for the machine. Once turned on, the pooch starts to run at great speed, seemingly enjoying himself.
this_pup_cant_wait_to_use_his_treadmill from r/aww
It's no surprise that this cute clip went viral, garnering over 47k views and 1.2k comments from amused viewers on Reddit alone.
One user commented, "Ah man this is so great, I didn't know the video had sound until I went back. Listening to the noises he makes in his excitement has been cracking me up, but then imagining your neighbors thinking you're torturing someone somehow made this even funnier!"
While other users were impressed by his stamina. "NAH.. those beginning yelps are the turbo engines starting up, then the dog takes off full speed!".
Another user posted, "When you gotta go fast and you gotta do it RIGHT NOW."
The Dog Trotter treadmill has become a popular, exercise alternative for canines, and provides great resistance for muscle and strength development. What's more, it's a great way to get pups moving if you can't get out for regular walks. There's no doubt that this speedy pooch is a real showstopper!
Get the best advice, tips and top tech for your beloved Pets
Cynthia Lawrence is freelance lifestyle journalist. Starting off her career in national magazines, she moved to digital and e-commerce publications. When she's not reviewing exciting products, she is obsessed with home interiors and her neighbour's cat!