New DogTV channel looks to ease loneliness, stress, and separation anxiety
Intended to help alleviate some of the behavioral problems that can arise when dogs are left alone, will your pooch be tuning in to DogTV?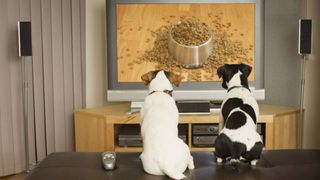 (Image credit: Getty Images)
Say goodbye to your binge watching sessions and your beloved soaps, it's your pup's turn to watch their very own pooch-friendly content with the launch of DogTV.
Now airing in the UK, DogTV is a new 24/7 television network scheduled to show content which experts spent three years researching.
This scientifically tested programming is said to help ease any symptoms your four-legged friend may be experiencing as a result of being left in the home without you, such as stress, separation anxiety, and loneliness.
This type of behavior is something that will have become significantly worse as a result of pooches spending lots of time with their owners during the pandemic and now having to deal with their humans returning to work.
According to DogTV, one out of every six dogs are thought to suffer from separation anxiety, which can present itself through refusing to eat, excessive barking, destructive tendencies, and attempting to escape the home whilst the owners are away.
Here's @ hey__itsfranklin__ another #dogtvwatchdog enjoying some DOGTV! 🐶📺#dogtv #dogs #dogsofinstagram #dogappreciation #dogdays #doglife #doglovers #dogstagram #dogsoftheinternet #hangingout #tvtime pic.twitter.com/n77BdxsdMuSeptember 10, 2021
In a statement from the channel's producers, they explain how its development involved multiple studies into the psychological and physiological needs, reponses, and moods of animals in order to discover the best ways to both relax and stimulate them, as and when required.
Since our pooches have super sharp senses, all of the channel's featured audio frequencies, colors, and even the camera alignment, have been set to cater specifically to them.
"DogTV is an excellent resource for dog owners to help alleviate some of the behavioral problems that can arise when dogs are left alone", explained DogTV's chief scientist, Professor Nicholas Dodman.
But it's not only your pets who will benefit from this new channel.
DogTV will include a variety of shows for owners, too, giving them the opportunity to better understand their furry friends and the way in which they can improve the care they provide.
This unique channel is available in a number of other countries, including the US, where it launched back in 2013.
Chloe is a freelance writer, editor, and proofreader, who has more than eight years experience in media. With a passion for creating content all about wildlife and the environment, she can be found at www.chloemaywrites.com or @ChloeMayWrites on social media.
Get the best advice, tips and top tech for your beloved Pets
Thank you for signing up to Petsradar. You will receive a verification email shortly.
There was a problem. Please refresh the page and try again.