Seven best TV shows and movies for dog lovers
Find some great movies for dog lovers along with TV shows that celebrate the love between people and pups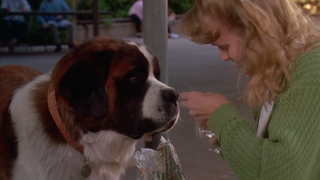 (Image credit: Netflix)
Dog ownership has exploded during the first half of 2020, showing our bond with our furry friends is stronger than ever. But not everyone can have a dog, and for some, they'll never be satisfied with the number of dogs they have – so it's handy that you can sate your dog love with some great films and TV shows. 
Spanning the worlds of '90s Hollywood and modern animation to real-life stories, big bruising St Bernards to tiny terriers, we've compiled a list of our favorite viewing options showcasing the best boys and girls in film and TV that you can enjoy right now, as well as how and where to find them.
1 Dogs (Netflix 2018)
Break out the tissues and Scooby snacks for you and your best friend, it's about to get emotional!
Through six individual episodes, Dogs explores the intimate stories and emotional human-canine bond in a storytelling format that is both rich and dramatically compelling. 
From New York City rescues to the faithful colleague of a Lake Como fisherman via war-torn Syria, the series is a heartfelt tribute to the extraordinary relationships that form between our two species, regardless of culture or circumstance. 
2 Beethoven (Netflix 1992)
No dog viewing list would be complete without arguably the greatest furry flick of all time. 
In the first of what ended up becoming an eight(!) film series, the slobbery, mischievous St Bernard Beethoven is introduced into the lives of the Newtons, the stereotypical American suburban family, and causes endlessly hilarious havoc. 
Fair warning: don't be surprised when the kids suddenly know what they want for Christmas this year when the credits roll…
3. The Healing Powers of Dude (Netflix 2020)
This heartfelt easy-watching comedy series follows 11-year-old socially anxious Noah as he navigates the choppy waters of his first days of school with emotional support dog Dude in tow.
Together, the pair encounter all the hallmark toe-curling moments from all our school days with only each other to help make it through. 
Alongside a colourful cast of classmates and adults, the show, which is set to return for a second series in January 2021, is a delightful tonic to the anxieties of modern teenage life and shines a poignant spotlight on positive pet influence.
4. The Dog Rescuers (Amazon Prime 2013)
In this 10-part series, British comedy stalwart Alan Davies gives a humorous but sobering tour of the vital work of the RSPCA to rehabilitate neglected dogs across the UK. 
Alongside interviews with RSPCA officers and shocking investigative camera work, The Dog Rescuers is a compelling reminder to us all that our best friends really are just that.
5. Homeward Bound (Amazon/iTunes 1993)
A remake of one of Disney's most popular pet flicks, this touching epic follows golden retriever Shadow and American Bulldog Chance as they navigate a perilous journey across America with their smart-mouthed feline companion, Sassy.
The film holds such a significant place in family folklore that aggregate review website CinemaScore gave it an average grade of A+. 
A complete family film for all ages (and according to some Amazon reviews, pets as well!) with laughter, drama and heart-tugs aplenty.
6. Frasier (Amazon 1993-2004)
Kelsey Grammer reprises his role as psychiatrist Dr Frasier Crane in the incredibly successful (and still hilarious) '90s spin-off sitcom from Cheers. But fans and insiders know the real star of the show is Eddie – Crane's father's pet Jack Russell terrier. 
The show explores the neuroses and mishaps of Grammer's pompous but well-meaning radio psychiatrist and his family and in all 264 episodes, Eddie's personality shines through the screen as much as any of his human co-stars. 
The role is widely regarded as one of the best animal characters in television history – so much so that the acting dog Moose received the bulk of the show's fan mail over its 11 year run, much to Grammer's reported annoyance!
7. Isle of Dogs (Amazon/iTunes 2018)
From the genius mind of Wes Anderson comes an Oscar-nominated animated family adventure to remember. 
Set in a fantasy Japan, an executive order banishes all canines to a distant Trash Island compelling 12 year old Atari to embark on a quest to find his bodyguard dog, Spots.
A wonderfully rich storyline supported by an all star cast including Bryan Cranston and Edward Norton, Isle of Dogs is a unique cinematic experience that is as compelling for cinephiles as it is for children.
Get the best advice, tips and top tech for your beloved Pets
Thank you for signing up to Petsradar. You will receive a verification email shortly.
There was a problem. Please refresh the page and try again.