Huge English Mastiff refuses to come inside until 3 inches of snow is cleared from doorstep
Watch Joe the 205lb English Mastiff refuse to enter his doorway because of 3 inches of snow in this hilarious viral video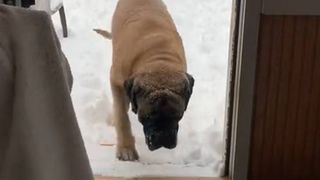 (Image credit: TikTok / @cast_iron_chris)
It's always better to be safe than sorry, even if you're the size of a small pony. English Mastiff Joe certainly didn't want to take any chances with the three inches of snow that were covering his doorstep. No, he didn't trust it at all.
Joe's owner Chris posted a video of the massive mutt hopping from paw to paw on the threshold outside the door, not wanting to step over the slight ridge that separates him from the house.
Chris and his partner can be heard encouraging Joe, but he isn't having any of it, preferring to stay out in the snow. He does try but can't bring himself to take that final step. He runs up to doorway three times before backing off again, even though Chris is standing right there with a towel.
Chris's partner shouts out, "It's OK, it's just snow! C'mon, puppy boy!" but Joe just stands there giving them 'puppy eyes' until Chris finally crumbles. He grabs a plastic snow shovel from outside the backdoor and with two strokes the terrifying obstacle is removed.
A rather snowy Joe is now happy to head back inside, pausing to give his humans a 'took you long enough' look.
The video has collected over 2.1 million views and 6,300 comments on TikTok, with viewers putting forward different theories to explain the huge hound's antics.
Commenter Daniel Burson suggests that Joe might think there's a glass door there because of the way the snow built up, which others think he was just being house proud and wanted to avoid tracking in the snow!
Despite their huge size and a heritage of being used for hunting and guarding, English Mastiffs are generally laid back and friendly. At 205lb, Joe is on the smaller side for the breed - Zorba, a male English Mastiff, is the current record holder for 'heaviest dog in the world' at a whopping 343lb!
Celebrity owners include Marlon Brando, Bob Dylan, Kirstie Alley, Dirk Bogarde and Douglas Fairbanks. We can certainly see the appeal of this gorgeous breed – Joe's anxious face and comical behavior have won him a legion of fans across social media.
Now he's spent all that time training his owners to move that pesky ice, hopefully life will be snow problem for Joe from now on!
Get the best advice, tips and top tech for your beloved Pets
Sara is a freelance journalist and copywriter of many years' experience with a lifelong love of animals. She's written for a range of magazines and websites on subjects varying from pet care to travel. A horse rider since the age of five, she's currently a full time pet slave to horse Blue and gorgeous, goofy English Springer Spaniel Olly. Adorable Olly has a huge sense of adventure and no sense of direction, keeping Sara on her toes.