Meet the charities helping Greek street animals find better lives
In Greece, several charities are taking animals off the streets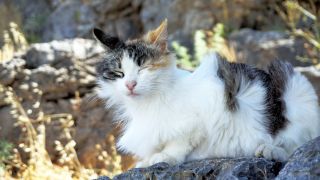 (Image credit: Future)
Greece is known for its azure seas, charming whitewashed villages, and delicious cuisine. But visitors there are often shocked to find another major feature of the much-loved holiday destination: the large numbers of stray cats and dogs roaming free.
Across the Greek isles there are over one million cats and dogs living on the streets and the numbers are rising due to a lack of neutering. They are often hungry, injured, or ill and, unfortunately, in some cases they are victims of cruelty and abuse.
Although it's certainly a big problem to tackle, there are plenty of kind-hearted people working hard to rescue Greek street animals in need and help them find the lives and love that they deserve.
Greek Animal Rescue
https://greekanimalrescue.com/
Greek Animal Rescue was founded by Vesna Jones in 1987 after she and her husband visited Greece for a holiday. Shocked by what she saw and determined to do as much as she possibly could for the stray and injured animals she encountered on her travels, she immediately began fundraising and GAR attained charity status in 1989. Since then, the charity has supported neutering drives, helped people rehome animals they have found on the streets, paid for urgent vet treatment, volunteered at shelters, and taken street animals to the safety of sanctuaries or new homes. If you want to help, there are many ways to do so, from donating broken jewellery to buying something from their wish list.
Friends of the Strays of Greece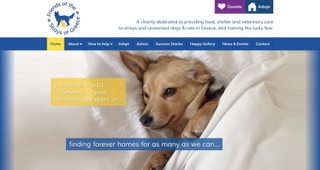 https://www.straysofgreece.org/
Run entirely by unpaid volunteers, charity Friends of the Strays of Greece spends every penny raised from donations on supporting animal welfare groups throughout Greece. Their fundraising and volunteer work has provided much-needed kennels for shelters to keep animals warm throughout winter, as well as emergency veterinary care, vaccinations and tick treatments. They buy food to ensure no rescued animals go hungry and have also rehomed countless cats and dogs, many of which you can see in their aptly named Happy Gallery. You can support them in their admirable efforts for as little as £3 per month.
Wild at Heart Foundation
Wild at Heart Foundation works around the globe, but a recent effort in Greece saw them rescue 25 street dogs in one fell swoop. By partnering with an airline and a pet transportation company, they organised a cargo flight from Athens to the UK to bring all 25 dogs home to their eagerly awaiting new owners. But their work in Greece certainly wasn't a one-off. The charity partners closely with busy Greek shelters to widen their pool of potential adopters to the UK, therefore re-homing more quickly and making space for the next animal that needs rescuing. Their shop is full of goodies such as t-shirts and dog toys, and by treating yourself you'll be helping them continue their vital work.
Healing Paws Animal Rescue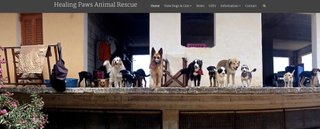 https://www.healingpawsanimalrescue.com/
Animal-lover Sue set up Healing Paws Animal Rescue after moving to the Greek island of Zakynthos 14 years ago. Together with her son Oli, she welcomes animals into her own home in order to rehabilitate them and treat them for injuries and illness. She also ensures all animals are socialised around other cats and dogs and children, so they're ready and trained to go to any suitable, loving home that wants them. Healing Paws re-homed over 100 animals last year alone with their adoption package that includes vaccinations, flea and worm treatments, neutering, microchipping and a pet passport. A registered charity and non-profit organisation, details of how to donate directly can be found on their website.
Takis Shelter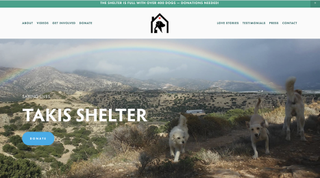 https://takisshelter.org/
Former DJ Theoklitos Proestakis, aka Takis, gave up his music career and set up his eponymous shelter in the midst of Greece's financial crisis. People could no longer afford to keep their pets and often simply set them free, so Takis wanted to help by providing them with a safe refuge. Fast forward a few years and he has rescued hundreds of animals. Whether chained up, abandoned, injured or hungry, each cat or dog is taken in by Takis to be cared for, then has the run of 33,000 square meters of beautiful olive groves, free to live their life to its full extent. Caring for so many animals comes with quite the monthly food bill, but there are plenty of ways you can help keep tummies full, from sharing videos to setting up a monthly donation.
Greek Cat Welfare Society
https://greekcats.org.uk/
At the Greek Cat Welfare Society they know that for the problem to be truly solved, the number of stray cats and kittens must be significantly reduced. That's why, since 1992, they've been supporting TNR (trap, neuter, return) schemes to gradually reduce the number of street cats. They organise volunteer nurses and vets to carry out the essential procedures throughout the year, as well as supporting a number of local organisations with funding, equipment and supplies to do the same. Without this vital work, the problem won't go away, so why not buy yourself a jazzy cat purse or a cute tote to help support the cause?
Get the best advice, tips and top tech for your beloved Pets