Meet the dogs learning to talk to their owners through a soundboard
These impressive pups have learned how to step on buttons on a soundboard to demand treats, ask to go on a walk, and more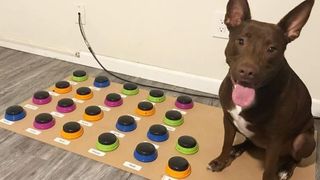 (Image credit: Christina Hunger, Instagram: Hunger4Words)
Have you ever thought, "Gee, I wish my dog could talk?" Well, at least two impressive canines can – with the help of a soundboard, that is.
Both Stella (Instagram: @Hunger4Words) and Bunny (TikTok: @what_about_bunny) are dogs who have learned how to communicate with their owners by stepping on buttons on soundboard. Each button is assigned a word, and pressing on that button will play a recording of their human saying that word aloud.
Stella's mom is Christina Hunger, a 26-year-old speech-language pathologist who figured out how to communicate better with her Catahoula/Blue Heeler mix. According to an article from People, the San Diego speech-language pathologist used her work with adaptive devices and 1- and 2-year old children to start teaching Stella words when she was only eight week sold. As of November 2019, Stella knew 29 words – and it's safe to say she knows even more now.
Stella uses her soundboard to tell her mom and dad when she wants to go out, when she wants to play, and much, much more. In fact, Hunger is still sometimes puzzled by Stella, who seems to be learning how to use her soundboard in increasingly unique ways and seems determined to make sure she's understood. In one Instagram post, Hunger details how she thought Stella was ready to go out and play, as she always does after she eats. But Stella hadn't eaten all of her food yet, so when Hunger asked, "where play?" through the soundboard, Stella walked over to her dish, checked to make sure her mom was watching, and finished her breakfast!
Then there's Bunny, a dog who seems to have developed a sense of humor while learning how to speak. The sheepadoodle (a mix between a poodle and a sheepdog), can reportedly use more than 40 words, according to Today.com. Bunny's mom, Alexis Devine, is using the same type of augmented communication device as Christina Hunger to teach Bunny how to communicate more clearly – although Devine's devices are grouped in hexagons based on word type.
The buttons are arranged in a system known as the Fitzgerald Key, which organizes words by sentence parts like subjects, verbs, and objects. Devine reports that this organization helps Bunny with her syntax and communication.
From her TikTok videos, it seems like Bunny can use the buttons to identify her mom, dad, and friends, and to request "scritches," but what may be the best thing I've seen yet is Bunny's sense of humor. Check out the TikTok below to see it on full display.
Yes, that is Bunny wrongfully thinking there's a stranger in the house just to go on a hunt to find that stranger with her mom, and end the fruitless search with an "oops." If that didn't make you laugh, nothing will.
So, cuteness and amazingness aside – are Stella and Bunny really talking? Check out this Slate article for an in-depth look at the possibility, which suggests the dogs may not fully understand what they're saying, but may be really good mimickers. In short, more evidence is needed to determine if Stella, Bunny, and other dogs using augmented speech pathology devices are actually speaking to us.
Either way, it's pretty amazing to see a dog "talk," isn't it?
Get the best advice, tips and top tech for your beloved Pets