Owner pampers her 12 miniature Dachshunds with designer clothes
British woman spends more than £23,000 in four years on her miniature Dachshunds and even shares an 8ft bed with them all!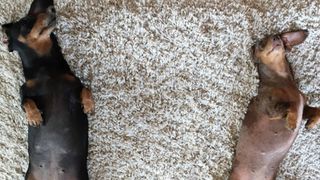 (Image credit: Getty Images)
A 47-year-old dog groomer from Shrewsbury, England, loves her miniature Dachshunds so much that she's spent a small fortune on a wardrobe filled with designer clothes as well as a pair of orthopedic beds.
Dedicated owner, Claire Membury, fell in love with the adorable breed when she brought home her first sausage dog a few years ago.
Now, she's the proud dog mum of a dozen Dachshunds named Chanel, Coa, Darla, Donna, Echo, Forest, Lando, Lemmy, Luna, Niko, Scarlett, and Scotty.
As well as her sausage dogs, Claire also has a Dalmatian called Princess, two horses and some chickens, too.
When asked about her pack's outfits, Claire explained to The Metro: "Their wardrobe is double the size of mine, if not bigger… They've all got shoes, raincoats, hats and warm jackets, which can be quite practical in the cold months."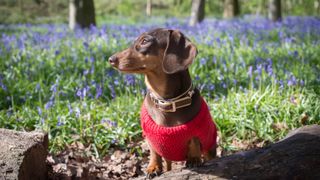 But it's not all about the fashion though. One of the miniature Dachshunds, Donna, has to wear sunglasses to protect her eyes.
Aside from their two £500 orthopedic beds, these cute canines regularly sleep in Claire's 8ft bed (which she shares with her husband, Leigh) after she chose to move her bedroom downstairs to be closer to them.
"They [even] eat better than we do", Claire says, after revealing that her pooches get to enjoy a raw food diet.
"They have everything from chicken feet and rabbit ears to fruits, vegetables such as celery, and lots of tablets and vitamins."
Describing miniature Dachshunds' personalities as "out of this world", like many owners, Claire is concerned when it comes to dog thefts. "I'd hate if anything ever happened to them and sometimes worry about dog theft. I'd rather they steal my husband."
Get the best advice, tips and top tech for your beloved Pets
Chloe is a freelance writer, editor, and proofreader, who has more than ten years' experience in creating animal-focussed content. From National Geographic to Animal Planet, Chloe's passion for creating fact-filled features all about wildlife and the environment is evident. But it's not just wild animals that Chloe's fascinated by. Having written more than 75 articles for PetsRadar - and having her very own four-legged friend by her side - it's no wonder that her love of dogs (and, of course, cats) has grown exponentially.
Her website, www.chloemaywrites.com, and social media pages - @ChloeMayWrites on Instagram, Facebook, and Twitter - showcase her knowledge through daily facts and trivia tidbits. For example, did you know that snails have teeth?!