Pet COVID vaccine: Will we need to vaccinate our cats and dogs?
Research has suggested that a pet covid vaccine may be needed in the near future to keep the virus at bay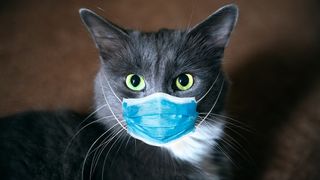 (Image credit: Getty)
Could a pet covid vaccine be needed very soon? As the race to vaccinate everyone against COVID-19 hots up, it's looking possible that it may become necessary to also vaccinate pets against the virus.
While the Centers for Disease Control and Prevention (CDC) report that cases of COVID-19 being present on pets are rare, it is known that SARS-CoV-2, the virus that causes COVID-19, is capable of infecting a number of animals, including cats and dogs.
According to the authors of a new editorial published on January 25 in the journal Virulence, it is possible that, as the virus evolves, risks could increase further down the road as it could rebound back onto humans.
Kevin Tyler, editor-in-chief of Virulence and co-author of the editorial, said of the potential risk: "It is not unthinkable that vaccination of some domesticated animal species might also be necessary to curb the spread of the infection."
However, there's no need to worry about it yet. As we mentioned earlier, cases of pet infections are rare, and the authors of the article have stopped short of calling for a vaccination programme for cats and dogs.
"It is important to stress that we are not seeing onward transmission in cats (or dogs) at the moment and there is no need for owners to consider vaccinating [their pets] right now, but we should be prepared for that as a possibility at some stage," Tyler told Live Science.
Even if an effective vaccine were to be developed, the US Department of Agriculture (USDA) currently isn't approving licenses for pet vaccines aimed at COVID-19, with Science magazine reporting that at this moment in time, the "data does not indicate such a vaccine would have value."
So for now, it doesn't look like vaccinating our pets is something we will have to worry about just yet. Even so, it's something that all pet owners will want to keep in mind, should the need arise.
Steve writes and proofreads buying guides, news stories and advice for Pets Radar, drawing on his lifelong experience as a pet owner. Currently sharing his house with two cats and a dog, he draws on the many highs and occasional lows of pet ownership he has borne witness to in his writing. He has worked in publishing for 15 years as an editor, sub editor and writer on a range of titles, such as SciFiNow, How It Works, All About History, Real Crime and Horrorville. You can follow him on Twitter @stevewright22
Thank you for signing up to Petsradar. You will receive a verification email shortly.
There was a problem. Please refresh the page and try again.