Retired police dog Vinnie gets new set of wheels
A retired police dog left partially paralysed from a debilitating medical condition has been given a new lease of life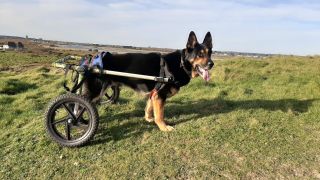 (Image credit: Dave Harfield)
A handsome retired police dog named Vinnie is enjoying a new lease of life thanks to some help from registered charity Pawsome Pensions and a brand new set of wheels.
Vinnie served his community in the U.K as part of Dorset Police from September 2013 alongside his handler, PC Brendan Trent, playing a vital role in keeping peace and order on the streets of his local town. Often just the sight of Vinnie, a German Shepherd Dog weighing an imposing 40 kilos, was enough to diffuse potentially violent situations before they escalated, but unfortunately a medical condition forced him to retire in September 2018 after five hard-working years on the force.
Earlier that year, after noticing some loss of coordination in Vinnie's hind legs, PC Trent had him examined by veterinarians who suspected the presence of Degenerative Myelopathy, a progressive disease of the spinal cord that leads to total paralysis of the hind limbs. Sadly, this signaled the end of Vinnie's time as a police dog.
Unfortunately, when police dogs retire, the force can no longer support them financially. Their handlers will be given the option of keeping the dog, but in Vinnie's case this wasn't possible as PC Trent was to be assigned another police dog and continue working as a handler. It's a plight common to many ex-service dogs, but thankfully a local family offered to adopt Vinnie and he began a brand new life as a family pet in October 2018.
Vinnie's condition has continued to worsen but his new family, Dave and Cath Harfield and their kids James and Lizzie, have done everything they can to keep his health and quality of life at optimum levels. Since getting an official diagnosis of Degenerative Myelopathy in June last year, the Harfields have tried a number of treatments aimed at delaying Vinnie's paralysis for as long as possible. These included stemcell therapy and steroid treatment from Stem Cell Vet UK along with hydrotherapy and physiotherapy from local specialist Pawseidon Hydrohub.
I enjoyed a lovely walk in the sun next to the river today! pic.twitter.com/MiDggpotaFFebruary 28, 2021
"Sadly, there's no cure for Degenerative Myleopathy," explains Dave. "It's all about delaying the onset and while the treatments we've pursued have helped Vinnie greatly, he recently reached a point where his lack of mobility was beginning to affect his quality of life. Despite his difficulties in moving around, Vinnie remains full of life and all the drive, determination and spirit of a working police dog is still there. So at the start of the year we decided to buy him a specialist dog wheelchair. It's made a huge difference and it's been quite emotional watching him enjoy all the things he used to love; like running on the beach, playing fetch and even chasing the odd squirrel.'
Vinnie's family were fortunate when it came to the cost of the medical treatment, with pet insurance paying the majority of vet bills that ran into thousands of pounds, but there was little provision for any help with his wheelchair. Thankfully Pawsome Pensions, an independent local organisation which helps retired police and fire dogs, stepped in with the kind offer of contributing to the cost.
Andi Darbey, Trustee and Secretary at Pawsome Pensions, told us; "We were only too pleased to help Vinnie with the purchase of his new wheels. Pawsome Pensions has recently become a registered charity and was set up to assist our retired police and fire dogs in their retirement in whatever way we can. Had Vinnie's insurance company not been able to assist with his earlier treatment the charity was more than ready to step in. As always, we are grateful for those supporting us in whatever way they can".
With help from Pawsome Pensions, other retired service dogs like Vinnie can live happy and rewarding lives long after their final shift has finished. So if you'd like to donate to this very worthy cause please visit pawsomepensions.org.uk.
Get the best advice, tips and top tech for your beloved Pets
Dave has over 20 years experience in publishing during which he launched many successful magazine titles including How It Works, All About Space and All About History. He's also pet parent to a retired police dog called Rebel, who can't work anymore due to a health condition. When's not busy trying to amuse a boisterous, three-year-old German Shepherd, Dave's the Editor on PetsRadar.