Family who wanted one puppy now lives with thirteen fully-grown Golden Retrievers
Social media accounts follow a large group of Golden Retrievers who have grown up together as The Fluffy Family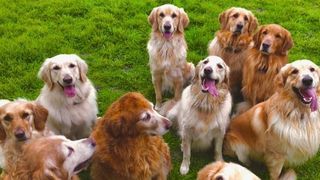 (Image credit: Instagram / @the_fluffy_fammily)
Do you enjoy having a dog around the house? How about two? Or three? Or maybe even 13!
For that's the number of Golden Retrievers living with Collin Standon's family and, if the many videos posted online are anything to go by, it makes for a rather hectic household.
The story began in 2017 when Collin went to buy a single puppy yet ended up buying 10. Since then, it transpires they've added three more.
Indeed, fast forward to today and you can see the massive family. What's more, they're all thriving.
Their energy is a far cry from their time as puppies when they were shown wriggling on a bed in footage posted to TikTok. The caption, states "would you have kept all the puppies too?" to which the only answer has to be "yes".
The footage, posted to the account thefluffyfamily13, then shows the pups as they are today, having grown older as one big family.
"Some call us crazy but I love my fluffy family", says the video's narrator. And it would seem viewers do, too, since more than 1.3 million have liked the post so far. But that's not all.
The Fluffy Family has also become a hit on Instagram via the account the_fluffy_fammily, attracting 6,572 followers. Images and videos show the dogs playing and displaying their personalities.
In one instance, some of the dogs take a ride in a truck – possibly the only way of transporting them all!
Of course, looking after this many dogs won't come easy. Golden Retrievers have boundless energy and they need to expend it to prevent them from becoming bored. Luckily, they're very intelligent and it's in their nature to be obedient.
They also need regular grooming and bathing which is why the family is pointing people towards their Amazon page, the sales from which help with nutrition and care for the pets.
Get the best advice, tips and top tech for your beloved Pets
David Crookes has been a journalist for more than 20 years and he has written for a host of magazines, newspapers, websites and books including World of Animals, BBC Earth, Dogs and Canines, Gadget and The Independent. Born in England, he lives in a household with two cats but he's also keenly interested in the differences between the huge number of dog breeds — in fact, you can read many of his breed guides here on PetsRadar. With a lifelong passion for technology, too, he's always on the lookout for useful devices that will allow people to spend more time with their pets.